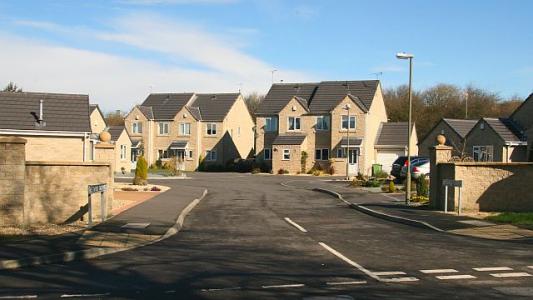 There's been a lot of positive signs for a housing (and broader economic recovery) coming out lately. Here are nine reasons we might be looking at a better 2012 than 2011 in the residential construction market.
1. Unemployment drops to lowest point since 2009
The unemployment rate is at 8.6 percent, according to the Bureau of Labor Statistics report released today. That's down from 9 percent last month and the lowest rate since March 2009.
In another positive sign, the number of involuntary part-time workers (those employed part-time not by choice but by necessity), dropped by 378,000 to 8.5 million -- still way too high, of course, but a move in the right direction.
[pagebreak]
2. Pending home sales up 10.3 percent in October
Pending home sales rose strongly in October and remain above year-ago levels.
The Pending Home Sales Index from the National Association of Realtors, a forward-looking indicator based on contract signings, surged 10.4 percent to 93.3 in October from 84.5 in September and is 9.2 percent above October 2010 when it stood at 85.5.
[pagebreak]
3. Housing affordability at record levels
One benefit of this downturn is that housing affordability is near its highest level in more than twenty years. That means more long-term opportunity for remodelers as people get into houses they can actually pay for, unlike the boom years.
The NAHB/Wells Fargo Housing Opportunity Index indicated that a near-record 72.9 percent of all new and existing homes sold in the third quarter of the year were affordable to families earning the national median income of $64,200. The affordability measure rose slightly from the 72.6 percent set last quarter and has remained above the 70 percent threshold for 11 consecutive quarters.
[pagebreak]
4. Consumer confidence up heading into year-end
While still depressed from the levels seen in a healthy economy, consumer confidence rebounded in November, according to the latest Conference Board monthly survey.
Says Lynn Franco, Director of The Conference Board Consumer Research Center: "Confidence has bounced back to levels last seen during the summer (July 2011, 59.2). Consumers' assessment of current conditions finally improved, after six months of steady declines. Consumers' apprehension regarding the short-term outlook for business conditions, jobs and income prospects eased considerably. Consumers appear to be entering the holiday season in better spirits, though overall readings remain historically weak."
[pagebreak]
5. Existing home sales make surprising October jump
Existing-home sales improved in October while the number of homes on the market continued to decline, according to the National Association of Realtors.
Total existing-home sales, which are completed transactions that include single-family, townhomes, condominiums and co-ops, rose 1.4 percent to a seasonally adjusted annual rate of 4.97 million in October from a downwardly revised 4.90 million in September. More importantly, sales are 13.5 percent above the 4.38 million unit level in October 2010.
[pagebreak]
6. Residential construction spending up 3.4 percent
Construction spending on residential properties was up 3.4 percent in October, according to the U.S. Commerce Department. An increase in single-family construction and residential improvements offset a decline in multifamily construction.
Overall, construction was up 0.8 in October, the third straight month of increases, although declines in commercial and government spending pulled that overall number down.
[pagebreak]
7. Construction industry adds most jobs since 2006
Positive news on the job front today as payroll-processing giant ADP reports that November saw another 206,000 jobs added to the private business sector, well above what economists were projecting.
Construction employment was also up by 16,000, the biggest gain for the industry since November 2006.
The overall private-sector increase was the highest since December 2010 and almost twice the monthly average since May, ADP reported.
[pagebreak]
8. Builder confidence at 18-month high
Builder confidence in the new single-family homes market rose by three points to 20 on the NAHB/Wells Fargo Housing Market Index (HMI) for November. The gain builds on a revised three-point increase in October, and brings the confidence gauge to its highest level since May of 2010.
The HMI rose in three out of four regions in November, with a three-point gain to 17 registered in the Northeast, an eight-point gain to 23 registered in the Midwest, and a two-point gain to 21 registered in the South. After posting a big increase in October, the West returned to trend this month with a six-point decline to 15.
[pagebreak]
9. Single-family starts increased in October
Single-family housing starts rose 3.9 percent to a seasonally adjusted annual rate of 430,000 units in October, according to the U.S. Commerce Department.
Single-family permits posted a measurable gain of 5.1 percent to 434,000 units in the latest report, which is their fastest pace since December of 2010.