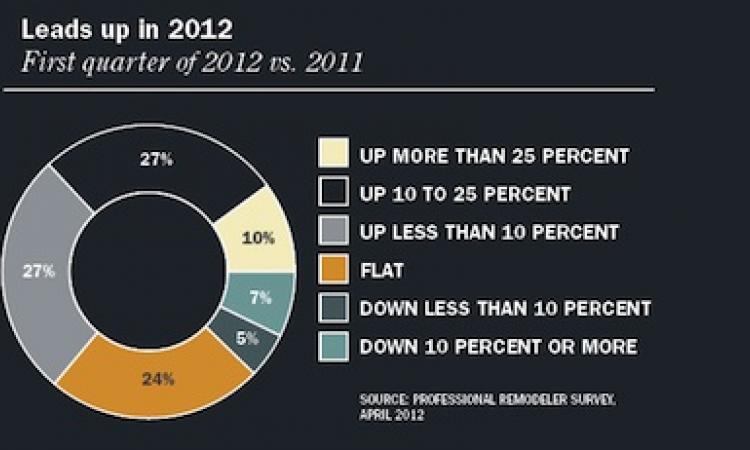 Lead generation is challenge No. 1A for most remodeling firms these days. Even as work picks up, homeowners have plenty of competitors to choose from, from the former homebuilder to the laid-off airline mechanic.
The good news is that leads seem to be on the upswing. In a recent survey of Professional Remodeler readers, 64 percent said that lead generation was up in the first quarter of this year compared with the same time in 2011. Only 12 percent said it had declined.
We reached out to the 83,000 readers of Professional Remodeler, as well as our social media fans and group members, to find out what is working today to drive leads, as well as the formerly reliable methods that aren't working like they did in the past.
5 tips for past clients
Repeat business and referrals from homeowners that already know you are the lifeblood of any remodeling firm and is the best source of leads for most companies. Finding creative ways to encourage that business is important, though.
Sometimes it's as simple as making sure past clients know you are still in business by sending out letters, emails or postcards. This can include an incentive or offer for past clients only, such as two free hours of handyman work, as suggested by one reader. Others regularly schedule follow-up calls and visits to check that past work is in good shape, which often leads to more projects that need to be completed. Many firms mentioned hosting parties or barbecues for past clients.
Many remodelers said they are offering rewards for referrals from past clients. Those rewards range from gift cards for local restaurants to credit for future work to programs that let clients earn points toward trips or cruises.
[pagebreak]
5 tips for Search Engine Optimization
Company websites were the top new source of leads for many remodelers we talked to. The key is developing good SEO — that is, optimizing the website so potential clients are more likely to find you on Google, Bing or other search engines.
The first step to good SEO is deciding what terms you want to target. For example, a kitchen remodeler in the Dallas area might want to target "Dallas kitchen remodeling" or a specific suburb with "Grapevine kitchen remodeling." The Google Adwords tool at adwords.google.com is a great resource to tell you how many people are searching for a particular phrase, as well as the competition for those terms.
Once you've done that, then you need to make sure your site has those words and phrases on it in articles, blog posts, the home page, etc. It can be a daunting task and many remodelers choose to hire a consultant to help with the process.
Targeting longer search phrases can be a way to stand out from the crowd. Finally, Google Adwords — the paid search results that show up on Google — has worked for many remodelers, especially those who are trying to build their Web presence.
[pagebreak]
8 tips for Social marketing and other Internet options
We could dedicate several articles to this subject (and we are in July, so be sure to check it out), but here are a few things that remodelers said are working for them.
YouTube — It's not just for cute dog videos. Remodelers are using the online video site in a number of ways. The most-mentioned was recording short testimonial videos from happy clients telling about why the remodeling experience was so great with a given firm. How-to videos can also help drive traffic and establish you as an expert resource. Videos should be kept short — two or three minutes.
Facebook/Twitter/Google+/Pinterest, etc. — The social media sites can be a great way to improve SEO, as well as promote a firm's knowledge and work. An interesting post can get passed along and greatly increase your reach.
Angie's List — More and more clients are turning to review sites like Angie's List and Yelp to find out about service providers. They are viewed by many consumers as an independent source, so encouraging your clients to write positive reviews on the sites is a great way to drive business. Here's an exercise: Type your company name into Google followed by "reviews." That will tell you a lot about what people are saying about your company and if you have a problem you need to address.
Craigslist — The free classified ad site is a place for just about anything. It might not be a big driver, but it is free and will help you reach a younger audience. One remodeler said it has been a great source of leads for his business.
Paid lead services — Companies like ServiceMagic don't have the best reputation in the industry. Many remodelers complain about the quality of the leads and how the companies deal with clients. That said, thousands of remodelers generate huge amounts of business from them, and dozens of our readers said they have been a good source of leads. (It's worth noting that this also showed up frequently on the list of marketing tactics that don't work anymore.)
Houzz — The popular photo site is an impressive collection of thousands of photos and design ideas. Remodelers can post images of their work and tag them with location and type of project, products, finishes, etc. When a consumer searches on the site for, say, "Chicago bathroom," they can find those photos, driving traffic back to a remodeler's website.
[pagebreak]
Financing
Obstacle No. 1 for many clients is obtaining financing for a project. Banks are still very reluctant to lend money for any home improvement work, so a company that can offer easy financing has a leg-up on the competition, said several remodelers. Some have worked to find partnerships with local banks that may better understand the local housing market than a large national bank. There are also some national players that are aggressively courting the remodeling industry, including Wells Fargo and GE Capital.
Job sign brochures
It's a simple idea, but adding a small box of brochures to a jobsite sign can be a good way for a potential client to walk away with something. It helps make sure they don't forget a company's name or website address by the time they get home.
Networking with other pros
There are always other contractors, designers, etc., that may get asked about projects that they either can't or don't want to do. Several remodelers mentioned that developing relationships with architects has been a key part of staying busy for them.
Another interesting suggestion was keeping close with builders that have started remodeling. One remodeler said he has found them to be a great source of business. As new construction has picked up in his market, those builders have decided they want nothing to do with the remodeling market and it's many challenges. They are all too happy to pass jobs on to him, he said.
Home shows
Many remodelers said they have seen increased traffic coming through home shows this year, indicating more interest in making improvements. While many attendees are in the early stage of their decision making process, they have prequalified themselves by coming to the show. Those that are using the show successfully recommended offering incentives for show attendees and being ready to set design or sales appointments on the spot.
3 ways to do home tours
There were several variations on this theme. Many remodelers participate in local remodeled home tours along with other remodelers. Others convinced clients for whom they had undertaken a particularly impressive remodel to open their homes up for a reception for past and potential clients. Finally, a couple of remodelers have bought and improved homes that they have or are planning to use as showpieces for several months before selling the completed project.
Design services
Clients are busier than ever and many remodelers said that the fact that they offer design services, either in a true design/build model or by partnering with outside designers and architects, has made them attractive to clients. Proven expertise in solving problems with creative design will matter to most clients, especially on larger projects.
Targeting a segment
Don't try to serve everyone, many remodelers said. Many respondents said they have been successful by targeting a specific market segment and working them exclusively, whether it is a specific zip code, age group or income level. There are a number of companies from which remodelers can purchase demographic information to target those segments with direct mail, canvassing or other methods.
Reaching clients of closed companies
Many good remodelers have gone out of business over the last several years. In many cases, their clients were happy with the work they did and would respect their recommendations. If it makes sense, see if you can find a spot in your company for a respected former competitor. One remodeler said that he has purchased several struggling competitors simply to get access to their past clients. Either way, it can be a lucrative source of new "repeat" business.