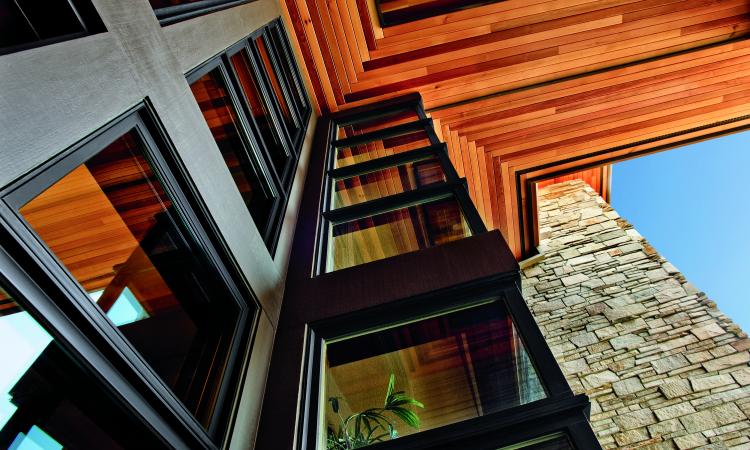 Marvin's 90-Degree Corner Window
Boral TruExterior Trim
TruExterior is 1.5 inches thick to accommodate thicker siding and is available in 4-, 6-, 8-, 10- and 12-inch widths.
Cosentino Dekton
Dekton comes in 56- by 126-inch slabs and three thicknesses: 1.2-, 2- and 3-cm.
Kohler Moxie Rainhead
The removable speaker has a lithium battery with a lighted on/off button indicating when the speaker needs charging.
Brinks Push Pull Rotate Door Locks
The cylindrical chassis locks with pick-, bump- and drill-resistant keyed products.
Eastman Heat Mirror Insulating Glass
Each window has one to three clear films that insulate the window to the level of a wall, lowering energy use and bills.
GE 30 kW Standby Generator
It includes a scrolling LED screen, wireless monitor, and Symphony II power system to electronically control loads during an outage.
Fypon Woodgrain Structural Column
Fypon's Woodgrain Structural Column can bear up to 12,000 pounds and is reinforced.
Fomo Handi-Flow Channel Fill
Channel Fill does not settle, shrink, or expand after curing to maintain an airtight seal, which can be detected by thermal imaging cameras.
Heat & Glo Mezzo Series
Set flush to the wall, the fireplace features a black glass interior that reflects active flames.
Integrity Wood-Ultrex Insert Double Hung Window
Upper and lower sashes can be opened for cleaning and a window control opening device can be used to prevent falls.
Homax Pro Grade Popcorn Ceiling Texture
The 14-ounce can features a pro grade ergonomic grip and can cover up to eight square feet.
Behr Deckover
Two coats of Deckover can cover up to 50-square-feet to conceal splinters and cracks up to a quarter inch deep.
Häfele Loox LED Cabinetry Lighting
Loox LED lighting can be incorporated into kitchen design under cabinets, over sinks, inside drawers and more.
Marvin 90-Degree Corner Window
Made in America, this window uses a standard Low E II glass and energy efficient glazes are available.
Generac PowerPact
PowerPact targets essential circuits and automatically powers refrigerators, well pumps, and other appliances in an outage.
Leviton 4-Port USB Charger
The 4-Port USB Charger is cCSAus listed, includes a five-year limited product warranty.
Nichiha Sierra Premium Shake
Deep grooves and keyways mimic the look and feel of authentic wood shake.
Owens Corning ResidentialComplete Wall System
ResidentialComplete includes air, water, and vapor barriers, minimizes thermal bridging and can save homeowners about 25 percent on heating and cooling.
Rinnai E50C Condensing Combi Boiler
The E50C works with a half-inch gas line and runs on either natural gas or propane.
Panasonic WhisperValue
The WhisperValue series has 50-, 80- or 100-cubic-feet per minute airflow circulation.
Warmboard Total Warmth System
The system features a wireless touch-screen thermostat to reduce installation time and cost.
Simpson Strong-Tie Strong-Wall SB
The shearwall features Strong Frame, a lateral system designed to prevent earthquake damage, and Steel Strong-Wall for heavy industrial loads.
General Shale Endurance RS4 Structural Brick
Endurance eliminates the need for wood or steel framing.
Therma-Tru Pulse Fiberglass Entry Door
Pulse doors are characterized by clean lines and sharp right angles for a modern look that builds on vintage aesthetics.
Ply Gem Roofing
This roofing product is light-weight and designed to resist impact and damage. PR