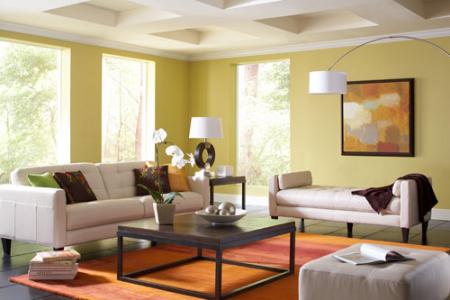 Nearly a third of the survey respondents (32 percent) would like a warm neutrals color palette in their home, featuring a hint of red, yellow or brown.
America's homeowners are gearing up for house-related projects this spring, with many of them planning painting projects to liven up their spaces with more color, according to Sherwin-Williams 2014 National Home Design and Color Survey. The survey was conducted to determine the most popular home projects and colors planned for spring and summer.
Gearing up for house-related projects
Seven-in-10 homeowners (69 percent) will undertake a house-related project in the next six months.
Painting tops the list (42 percent) followed by landscaping (41 percent) and redecorating (30 percent).
Homeowners in the Northeast are most apt to plan painting projects (50 percent), followed by Midwesterners (43 percent). In the South, painting ties with landscaping (39 percent), while in the West, 38 percent of homeowners plan to paint.
Three-in-four homeowners (76 percent) believe there is a room or area in their house that needs painting.
The bedroom (24 percent) ranks at the top of the list of rooms that need painting, followed by the living room area (22 percent) and bathroom (21 percent).
Seeking more color for the home
Nearly two-in-three homeowners (64 percent) would like to add more color to their home, especially in the living room/family area (25 percent), bedroom (24 percent) and bathroom (17 percent).
Men are gravitating toward more color: 58 percent want to introduce more of it into their home.
Neutrals with a hint of color are most popular
Nearly a third of people (32 percent) would like a warm neutrals color palette in their home, featuring a hint of red, yellow or brown.
One-in-four (25 percent) show a preference for cool neutrals, with a hint of blue or green.
Women (24 percent) prefer a soft and light aesthetic, whereas men like warm neutrals (34 percent).
Younger homeowners ages 18-34 want to use a rich and dark color palette (23 percent), while those ages 65 and up prefer a soft and light palette (35 percent). PR