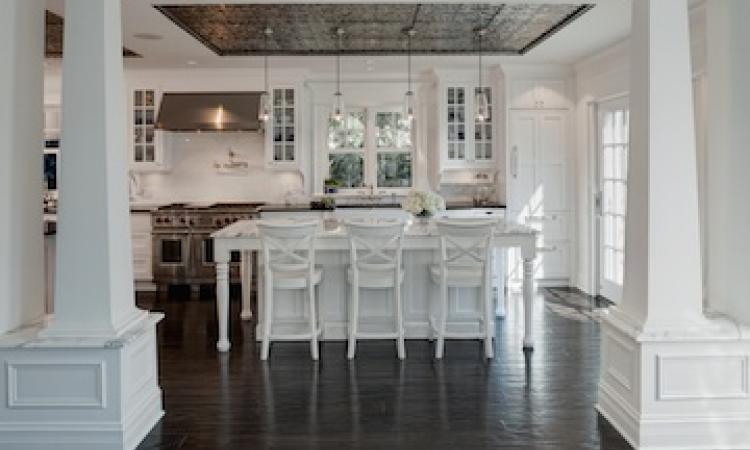 GOLD Kitchen over $100,000

Airoom Architects and Builders, Lincolnwood, Ill.
After 10 years in a 1950s Evanston, Ill. lakefront home, the owners were ready for an upgrade to their outdated kitchen. They wanted an open floor plan, updated feel, and modern equipment for their new kitchen. In contrast, the original kitchen was a mass of small work areas that lacked functionality for the family's needs.
To meet the needs of the homeowner, Airoom Architects and Builders decided that much of the existing first floor room should be repurposed. The dining room became part of the new kitchen layout and large windows in the dining area were removed to accommodate French doors that led to a private beach. Interior dining room walls were demolished and the existing air handeler was relocated under the stairs. The kitchen's ceiling was furred down to hide a structural beam. Two islands were also included in the kitchen—one in the main seating area, the second opposite a drinks area and closer to the exterior door.
Original mouldings were duplicated, and embossed tin ceilings added. Display cabinets were placed on both sides of the kitchen in order to provide symmetry throughout the room.
The Design Award judges cited the two-island design as an excellent solution to open the floor plan.
KEY PRODUCTS
Ceramic Tile: Dal-Tile

Columns: HB&G

Doors: Andersen

HVAC: Lennox

Insulation: CertainTeed

Kitchen Appliances: Sub-Zero, Wolf

Locksets: Schlage

Paints & Stains: Sherwin-Williams

Sinks: Kohler

Windows: Andersen
SILVER Kitchen over $100,000

Mosaic Group, Atlanta, Ga.
SILVER Kitchen over $100,000

Normandy Remodeling, Hinsdale, Ill.
BRONZE Kitchen over $100,000

Ventana Construction, Seattle, Wash.