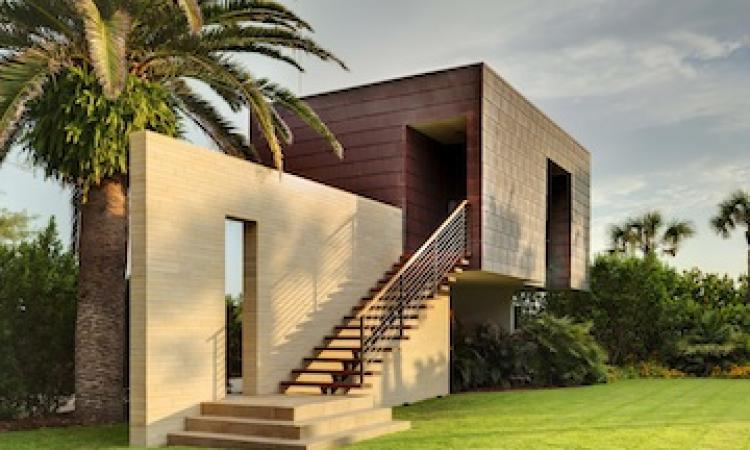 PLATINUM Detached Outbuilding

Michael K. Walker & Associates, Sarasota, Fla.
As one of several detached buildings on a coastal estate, the remodeled structure was designed to function as a guest quarters and day/dressing room for the pool and spa area. Coastal building zone requirements and a compact footprint resulted in an extraordinary per square foot cost of greater than $500.
The structure's mechanical, electrical, and plumbing are concealed within the 8-inch-thick elevated floor and vertical structural elements. Because of the exposure to salt and coastal winds, natural materials including copper shingles, limestone, and teak woods were used to minimize maintenance.
Professional Remodeler Design Award judges noted the creativity, implementation of natural materials, use of cantilevers, and the floating stairs as criteria for the Platinum Award designation.
KEY PRODUCTS
Doors: Loewen

Faucets: Kohler

Fixtures, Bathoom: Toto

Lighting Fixtures: Spectrum

Housewrap: Polystick Tuplus

HVAC: Mitsubishi

Locksets: Ashley-Norton

Paints & Stains: Benjamin Moore

Roofing: Siemens

Sinks: Kohler

Water Heaters: A.O. Smith

Windows: Loewen
PLATINUM Detached OUTBUILDING

The Wills Company, Nashville
This detached outbuilding project from The Wills Company was conceived as a private study/retreat for the husband and father of this Nashville family. He wanted a "man cave" of sorts — a place where he could alternately relax, work, or have a drink with friends, separate from the main house.
Hidden in the backyard, the detached outbuilding beautifies the landscape while remaining unseen from the surrounding neighborhood. An octagonal dome forms the center of the stone and brick building, which sports a wood-paneled ceiling and interior walls.
A large wooden desk to one side creates the desired office space when needed, with a direct view of the large fireplace along the far wall. The far corners contain a sink with counter space and a bar top, with cabinets on both sides.
The space has become a favorite spot for the entire family, often used for entertaining or additional space in the warmer months.
Key Products
Faucets: Grohe

Fireplace/wood stove: Isokern

Fixtures: American Standard

Housewrap: Typar

Insulation: Spray

Kitchen appliances: Bosch

Locksets: Baldwin

Paints/stains: Sherwin-Williams
BRONZE Detached OUTBUILDING

Chermak Construction, Seattle, Wash.
BRONZE Detached OUTBUILDING

DFW Improved, Frisco, Texas