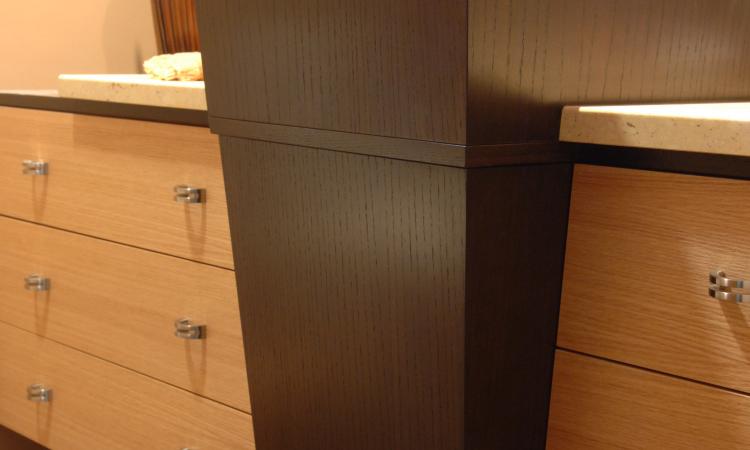 GOLD Bathroom under $30,000

Silent Rivers Design + Build, Clive, Iowa
Silent Rivers Design + Build had previously done work on this Waukee, Iowa home and the homeowners brought them back to redesign a half-bath. They wanted it to reflect the simple, Asian-inspired décor of the rest of the house, with an emphasis on the natural lines found throughout.
A new vanity formed the centerpiece of the redesign, featuring a custom, tapered pedestal to highlight the unique shape of the sink. The form of the pedestal is based on one of the homeowners' favorite vases. Rift-sawn oak drawers are anchored around it, floating above the new natural brick floor. Curved drawer pulls keep a seamless line across the face of the vanity.
Color and texture were also important considerations for enhancing the warmth of the room. The design team decided to base the color palette around the natural brick floor, which led to the choice of oak for the drawers. On top of the vanity, they opted for a silestone.
Silent Rivers also added a small, high opening in the previously windowless room, providing plenty of warm, natural light. The height of the window also helps maintain privacy.
KEY PRODUCTS
Faucets: Kohler

Fixtures: Kohler

Sinks: Kohler

Lighting: Halo

Flooring: Natural Brick

Insulation: Icynene

Siding: James Hardie

Countertops: Silestone by Cosentino

Vanity: Custom

Cabinets: Custom
SILVER Bathroom under $30K

Normandy Remodeling, Hinsdale, Ill.
BRONZE Bathroom under $30K

A&E Constructon, Pennington, N.J.