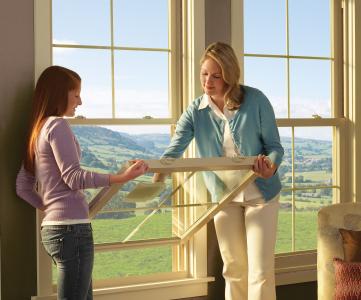 Homeowners should research a company's history, industry achievements, the product warranties and the reliability of the product line before investing in windows for a home.
When it comes time for your clients to replace the older windows in your home, make sure they consider selections that add both style and return-on-investment to your house.
"There are dozens of different types of windows on the market today," says Matthew Minerd of Simonton Windows. "The choices can be daunting. Start by researching the type of frame material you're looking for, and then move on to the type of energy-efficient glass insert that will serve you best, such as double- or triple-panes of glass.
"You can't go wrong with requesting ENERGY STAR qualified windows and seeking out windows that have the American Architectural Manufacturers Association (AAMA) Gold Label Certification. Those are some of the best made windows on the market today. Vinyl-framed windows are also considered of high quality, because they offer strong insulation value and low long-term maintenance."
To help you determine which replacement windows are right for you, consider this checklist offered by the experts at Simonton Windows:
Tip #1 – If you live near an airport or in a busy neighborhood, request laminated glass or double-paned windows to help reduce noise transmission into your home. Glass packages such as impact-resistant SafePoint glass can help deter noise while also helping to protect your home from burglary attempts.
Tip #2 – If your home was constructed before 1978, make sure to hire a window replacement expert certified in lead safe renovations. Many homes built prior to 1978 had lead-based paint on the exterior and in the window cavities, so it's critical to use a qualified window contractor to remove that paint when windows are replaced.
Tip #3 - Select vinyl windows with unique options to add style and decorative appeal to your home. With this product line, you can choose exterior window frames in Brick, Tan, Pine, Driftwood, Cream, Chocolate and Bronze colors. And, you can request interior frames in woodgrains of Antique Cherry, Contemporary Oak and Maple.
Tip #4 – For hard-to-open window locations (such as above a kitchen sink) replace existing windows with a Garden window. This mini-greenhouse style features dual, fully operational casement side windows that crank open to bring air and sunlight into the room. As a bonus, you can grow small plants on the shelves or use the space for displaying collectibles.
Tip #5 – Consider replacing older Single or Double Hung windows with easier-to-operate Casement, Hopper or Awning windows. These crank-out windows are less stressful on aging backs and hands because they require no lifting action. Slider windows also operate easily and can be a good option.
Tip #6 – Comparison shop before purchasing replacement windows. Make sure to research a company's history, industry achievements, the product warranties and the reliability of the product line before investing in windows for your home.
Tip #7 - Make certain to purchase windows with sturdy, easy-to-operate locks to secure windows in the home. For added security, order impact-resistant glass in windows. And, for decorative appeal on the inside of the home, consider the hardware options of Brushed Nickel, Oil-rubbed Bronze, Polished Brass, Dark Bronze and Antique Brass that are available in the Decorum by Simonton product line.
Tip #8 – Make sure the replacement windows you select meet or exceed industry standards set forth by the American Architectural Manufacturers Association (AAMA) and the National Fenestration Rating Council (NFRC). These tests assure that the windows meet stringent qualifications for thermal, air, water, operating force and structural performance.
Tip #9 - For ease of maintenance, order windows with vinyl frames. With vinyl window frames, like those from Simonton Windows, you never need to worry about upkeep such as the scraping and repainting hassles you have with wood frames. Vinyl windows resist rotting, decay, insect infestations and provide years of effortless beauty in the home.
Tip #10 - If selecting Double Hung windows for your home, make certain to request those that have sash that tilt-in for ease of cleaning. PR