It's no secret that upgraded kitchens and bathrooms help the resale value of a home, but what you should keep in mind when crafting a bathroom remodel? After speaking to contractors, designers, and product manufacturers, we found that the move toward bigger spaces is continuing for the foreseeable future. Here's a look at five current top bathroom trends: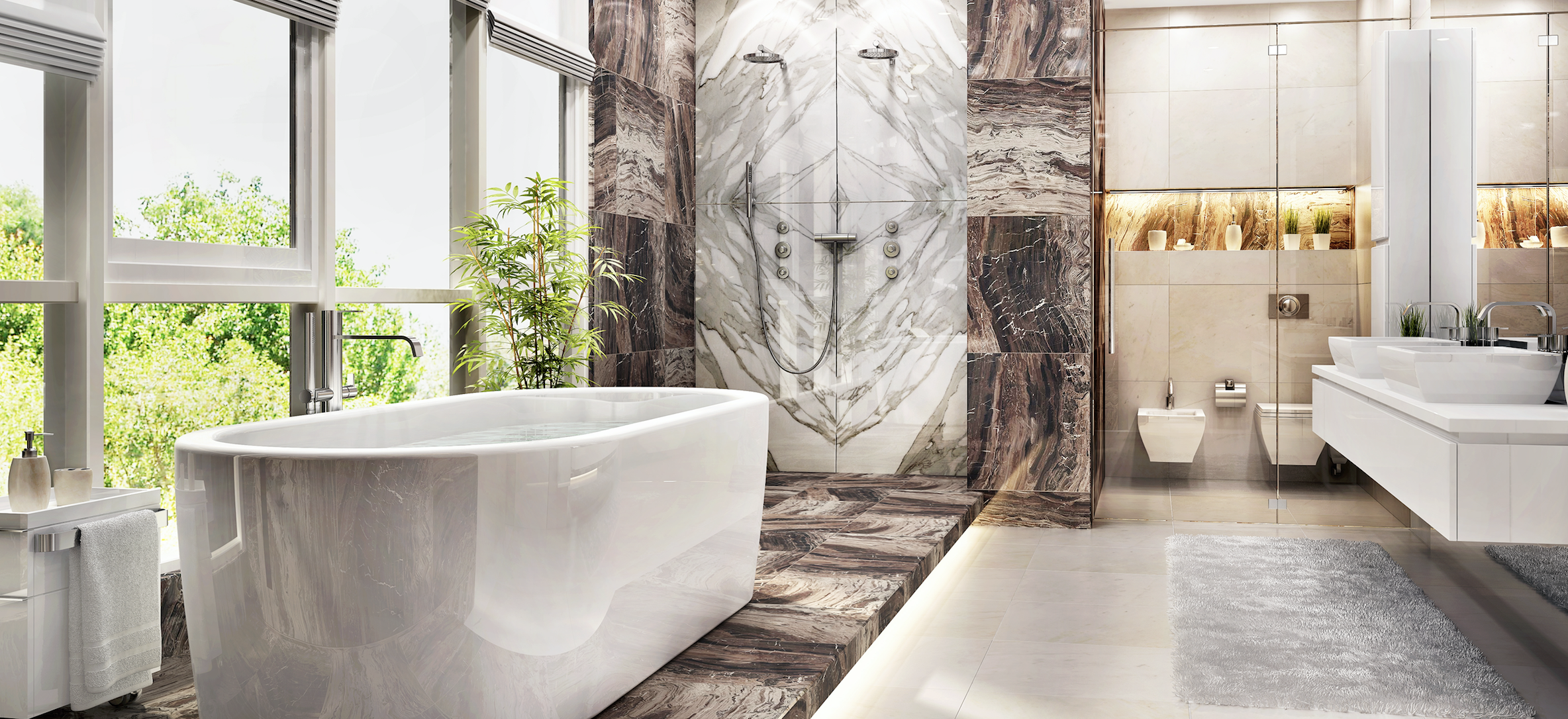 Master Baths
Clients across the board want the master bathroom to serve as a roomy, relaxing retreat. "It's becoming like a personal spa, where you can kick back after work and relax," says Kristin Whalen, kitchen & bath designer for Boilard Lumber in Massachusetts, and a Pro Remodeler Forty Under 40 winner. "We're seeing the overall footprint of the bathroom growing in order to accommodate that." 
In fact, in a 2017 bathroom trends study from Houzz, a quarter of respondents reported increasing the footprint of their master bath, and 30% stated that the size didn't meet their needs. 
Homeowners with a higher budget will bump out the square footage of the home to grow the bathroom, but doing so isn't necessary to achieve a bigger space. 
"We remodel within the space the clients have 70% of the time," says Rob Stafford, designer for Starline Kitchen & Bath Gallery in Flushing, Mich. "That includes shrinking a nearby closet to repurpose the space for the bathroom, or rearranging the layout."
The increasing size has allowed a number of different product categories to expand, specifically freestanding tubs and separate showers. "Most consumers today still predominantly shower as opposed to bathe," according to Joe Nuzzolo, senior director of bathing for American Standard. "So, when you put in a freestanding bathtub, you're also faced with the need for a stand-alone shower."
Bathtubs
Expanding the master bath footprint grows the space for fixtures, including those stand-alone bathtubs and showers. "Keeping the tub and shower areas separate serves two purposes," says Whalen. "The larger, freestanding soaking tub gives the homeowner an area for relaxation, while the separate shower keeps resale in mind and makes it easier for those with kids who may also be using that bathroom." 
So, clients are retaining the tub or separating the shower from the tub. But at the same time, the number of clients removing the tub entirely has grown significantly over the past year or two. "About 25% of our projects now are eliminating the tub," says Stafford. "People aren't afraid to do it anymore. More often, we're seeing someone retain a tub because they're thinking about resale."
For clients working with more limited spaces but still looking for luxury? "There are freestanding bathtubs that can be installed against the wall with a flat back," says Nuzzolo. "You can save a significant amount of space."
Manufacturers also offer more freestanding tubs in smaller sizes. "Many people who are remodeling find some of the more traditional freestanding tubs to be too large for the space," says Eric Moore, senior designer for Kohler. "For the most part, the most popular size is 66" in length, with varying widths."
Showers
Those customers opting to remove the tub entirely turn to the shower as the large, luxurious focal point. "They want this beautiful centerpiece to their bathrooms that isn't a tub," says Bryan Sebring, owner of Sebring Design Build, based in suburban Chicago. "And they want these showers to be big."
Safety has become a key aspect of shower remodels: Not only does adding safety measures help those looking to age in place, but it also improves resale prospects. "We're installing grab bars, even for younger clients, because now they're decorative, too," says Stafford, "or we're blocking the walls for them, so that down the road they don't have to disturb the existing tile and can add grab bars when they're ready." 
Many homeowners find that the more traditional freestanding tubs are too large for the space. The most popular size is
66" in length with varying widths.  
Aesthetics
Large-format tiles remain on top, thanks to their easy maintenance and clean look. "There are fewer grout lines with large-format tile, creating the more serene look that plays into the spa-like atmosphere clients want," says Erika Pearson, designer for Rhode Island Kitchen & Bath, based in Warwick, R.I. 
Clients are more willing to experiment with pairing different tile patterns in one area, particularly in the shower. "Especially where homeowners use the shower as a centerpiece, they want to do something different," says Sebring, a Pro Remodeler Forty Under 40 winner.  "A few years ago, tile was kept to the basics, but people are learning that unique tiles bring about a unique bathroom."
What's Next?
In 2019, our experts say to look out for these emerging trends:
• Smart tech, including digital shower controls, heated floors, and the incorporation of smart home assistants
• Sustainable products, including self-cleaning and water-saving toilets
• Recreating the luxury of larger bathrooms in smaller spaces
• Adding bold accent colors to liven up zen, neutral palettes
• Moving toward barrier-free and curbless showers 
Some of these began to break into the market in 2018, but didn't quite make it to trending—thanks in large part to higher costs. "Value-driven amenities are something to look for next year," says Sebring. "People are figuring out what they value most, and products and prices on the market will reflect that.