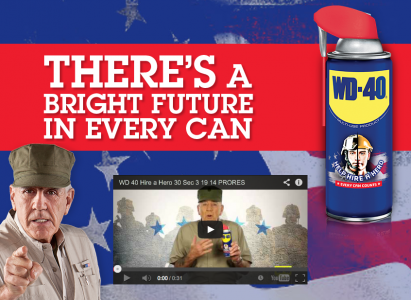 As U.S. military personnel continue to face difficult challenges transitioning back into the civilian workforce, WD-40 is introducing the limited edition "Help Hire a Hero" WD-40 Smart Straw cans to help support the U.S. Chamber of Commerce's Hiring Our Heroes program.
For every "Help Hire a Hero" can purchased, WD-40 will donate 10 cents to Hiring Our Heroes. The special cans are only available for a limited time while supplies last.  
"We, as a company, are grateful of those who serve or have served, and have several members of our team who are veterans," said Tim Lesmeister, vice president of marketing at WD-40. "By partnering with Hiring Our Heroes – a program we know makes a positive difference in the lives of these men and women – we hope to honor their service and do our part to help these heroes find work they can continue to be proud of doing."
"With this tremendous campaign, WD-40 is truly stepping up to support our nation's brave military members and their families as they transition into the civilian workforce," said Eric Eversole, executive director of Hiring Our Heroes. "It is only through the support of our incredible partners that Hiring Our Heroes has been able to connect hundreds of thousands of veterans, transitioning service members, and military spouses with meaningful job opportunities. We are thrilled to have WD-40 as a committed partner to our mission and our military families."
Actor and retired gunnery sergeant R. Lee "Gunny" Ermey will be helping spread the word on how Americans can help support the troops by purchasing their favorite blue and yellow can. Videos featuring Gunny will live on the company's website, and in-store materials will also feature his likeness.
"Help Hire a Hero" WD-40 Smart Straw cans are available for a limited time, while supplies last, at retailers nationwide. To learn more about the promotion, visit http://wd40.com/hireahero/. PR