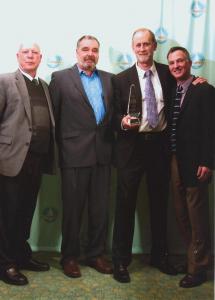 Jack Shea, John Caruso, Doug Hanna, and Dan McLaughlin of S+H Construction.
S+H Construction, a Boston area's residential renovation and custom home building company, was named a recipient of two 2013 PRISM Awards: A Silver award in the "Best Bathroom Renovation" category, and, together with their Marketing/PR consultants, JDCommunications, a Gold award for their newly designed website. 
 
The PRISM (Prestigious Results in Sales and Marketing) Awards recognize the accomplishments of professionals who influence the present and shape the future of building and design. The biennial competition – the largest industry competition in this region - is open to builders, developers, project owners, architects, land planners, marketing/advertising firms, interior design firms, remodelers, and other professionals in the home building industry to recognize achievements in building and design.  The 2013 Awards Gala - held October 30th at the Seaport Hotel, Boston – celebrated the winners while also raising funds for Housing Families, Inc.
 
The Silver award received by S+H recognized the exceptional work on an antiqued bathroom renovation.  Initially designed in 1950, the bathroom was in dire need of updating. In collaboration with Zero Energy Design, the S+H team opened up the space and created a new layout, adding custom-made cabinets, a sleek, deep soaking tub, new tile, new counter space and cut glass window art to brighten the room. Remaining true to the room's utilitarian modern heritage, the project resulted in a modern oasis for the homeowner. 
 
The Gold award, in the category of "Best Website" was awarded to S+H's marketing and public relations consulting firm, JDCommunications, who collaborated with S+H Construction on a total redesign of their firm's website.