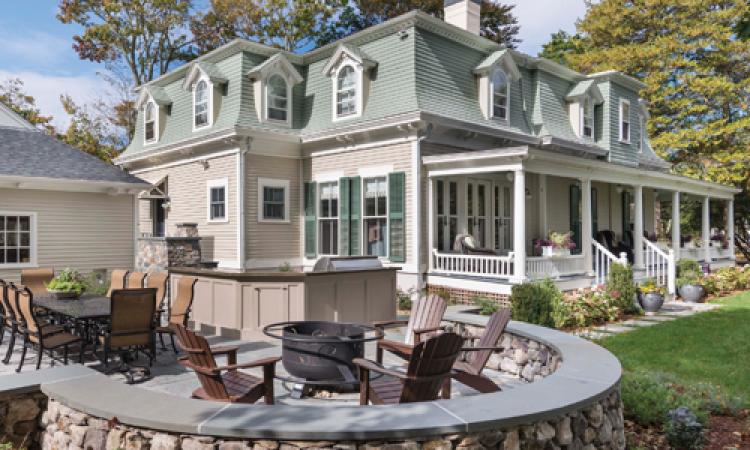 Historical Renovation
Davitt Design Build, West Kingston, R.I.
Project goals: Built in 1868, Idlewild is a 1½ story, mansard-roofed dwelling located in a New England seaside town. The residence features a Tuscan-columned veranda and round-head dormer windows, as well as a guest house. The new owners wished to revitalize the home, preserving its historical character while updating it to meet the needs of their family, which includes two adult sons and a 13-year-old daughter.
Challenges: Since Idlewild is in a hurricane zone, tie-downs had to be incorporated. Spray-foam insulation was used to bring  the house up to energy-code requirements. All loads were brought  to concrete footings, and HVAC ductwork was hidden in columns  and closets.
Solutions: Davitt Design Build transformed the 3,996-square-foot home by removing interior walls to create larger open spaces. New kitchen areas facilitate food preparation and entertaining while a new outdoor kitchen expands entertaining space.
A variety of textures such as hardwood, wainscoting, soapstone, and marble help connect to the home's past. Original materials were used whenever possible. For example, the front door, the center hallway staircase rail, the original fir flooring, and the exterior shutters were restored.
What the judges said: "Every detail was accounted for in the historical restoration. No corner went untouched. The level of difficulty for a project like this must have been enormous, but [the remodeling team] completely nailed it."