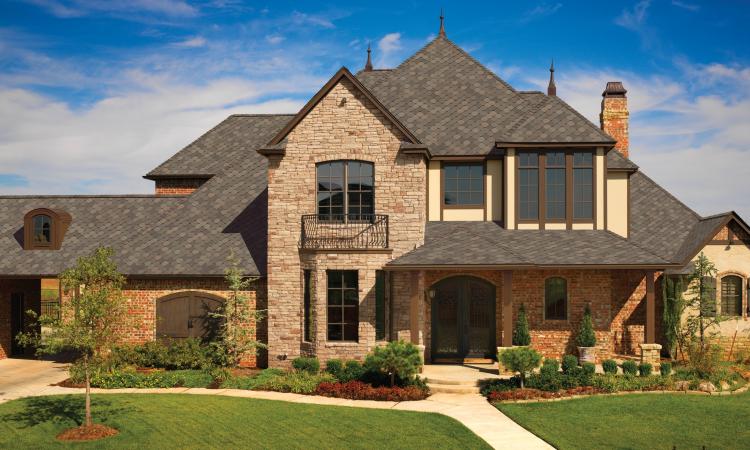 Manufacturers and customers alike are also realizing that efficiency comes from the roofing system as a whole, not just the shingles.
In an industry inundated with different materials such as concrete, clay, fiberglass, asphalt, and composite, many roofing manufacturers are looking to maximize performance while maintaining a familiar aesthetic.
 
"Anytime there is a manmade material, it's usually trying to pretend to look like something that's come out of nature," says Marianne Cusato, a Miami, Fla.-based designer and author of "The Just Right Home: Buying, Renting, Moving...or Just Dreaming--Finding Your Perfect Match."
 
Many shingles are looking to emulate slate or wood shake with materials that offer a lower price tag, longer lifecycle, and fire and impact resistance. Manufacturers and customers alike are also realizing that efficiency comes from the roofing system as a whole, not just the shingles.
 
Appealing to the eye
The roof's main purpose is to protect the home, but some of the new color trends establish the roof as key to tying together the exterior as well.
 
"More and more the female head of household is a major decision maker in what goes on the roof, and the homeowners are much more educated because they're online," says Emily Videtto, executive director of shingles and new product development for GAF. "That means color and style have really become very important elements of the construction of a shingle."
 
Gone are the days when solid-color roofs made up the majority of the replacement market.
 
"The customers love mixing the colors to have different accents and different base tones to achieve the ultimate aesthetic, the ultimate blended look," says Kayla Kratz, product manager for Boral.
 
New online tools allow customers to pick and choose from a variety of colors and then visualize exactly what such a combination would look like on the roof. DaVinci Roofscapes has found that such a tool, along with help from product specialists, gives people the confidence to go with something unique, according to Ray Rosewall, president of DaVinci Roofscapes.
 
"About 20 percent of our order today for residential is what we call a custom blend," he says. "It's very popular and it's becoming even more popular."
 
Color-blending options are prefect for the discerning customer who wants the ultimate, realistic look of either slate or wood shake, according to Rosewall.
 
Utilizing so many colors, however, can come with challenges and risks.
 
"There are some things that can naturally happen with materials that are true and authentic that you just can't recreate," Cusato says. "When you try to go to the extremes and the really bold colors, it usually fails."
 
Cusato also warns against shingle colors with high contrast because they can give the roof a polka-dotted look instead of a blended appearance.
 
Many manufacturers throughout the country have found it popular to stick to colors true to the shingle material or the material it is trying to emulate, but there are some nationwide differences as well.
 
"People like roofs that match the color of their shoes," Kratz says. "In Florida, we tend to see people with light roofs, more pastel colors. On the West Coast, we want the earth tones. We want the neutral colors."
Reducing energy costs
Lighter roof colors, however, can also play a more functional role for homeowners looking to use the roof and roof system to lower their energy bills. 
 
Cool roofs offer both high solar reflectance and high thermal emittance. Most cool colors are light, although this does not have to be the case, and these technologies can save homeowners money.
 
"We have the Timberline Cool Series roofing which is this highly reflective roofing shingle that can actually save you about 7 to 15 percent in total cooling costs," Videtto says.
 
A cool roof may not have the same cost-reduction benefits for every customer though.
 
"If the attic isn't heated, spending a lot of money on an IR-reflective roof doesn't make sense to keep the attic a little cooler when it doesn't really benefit the heating or cooling costs in the house itself, the living space," Rosewall says.
 
For a home with high ceilings that is difficult to insulate and has no attic space, a cool roof may make more sense, he adds.
 
Homeowners must weigh their options and determine what is most important to them in a roof.
 
"Customers don't want to pay more for cool roof," Kratz says. "They want that functionality but at the end of the day, they're going for the beautiful aesthetic of tile, which is a benefit for them because tile naturally has some of those cool-roof properties."
 
There are other ways besides cool roof for homeowners to lower their energy bills.
 
Ventilation is an important component in any roofing system, and the available products in these lineups continue to evolve.
 
"Most older houses don't have soffits or they were built prior to ventilation being on the radar screen," says Bert Elliott, product and program manager for Owens Corning. "You need input and you need exhaust. If you only have one or the other, you don't have a ventilation system."
 
Owens Corning's new InFlow Vent helps prevent roof deterioration by reducing moisture in the attic and mitigating ice damming. The system has a bottom-intake design so that it also protects against wind-driven rain.
 
The InFlow Vent and similar systems from other manufacturers can not only lower homeowners' energy bills but also protect the large investment of a new roof.
Keeping roofs out of landfills
Energy efficiency is one aspect of "going green" while a smaller footprint is another component. Roofing manufacturers have seen more customers concerned not necessarily with the use of recycled products but with the ability to recycle their roofs at the end of their lifecyles.
 
"We did research and asked, 'How do you feel about recycled content in your roofing products?'" says Sue Burkett, marketing leader for Owens Corning. "That didn't go over too favorably, but they were interested in the end of the life of the shingle."
 
Building construction materials make up a large portion of landfills, so manufacturers and consumers alike are trying to be more mindful of what happens when roofs are removed.
 
With its clay tiles, Boral has received Cradle-to-Cradle certification for environmentally sustainable products, meaning it has passed requirements for environmental and human health as well as product and material utilization.
 
"What Cradle-to-Cradle does is evaluate everything from extraction of raw materials to the manufacturer to the life on the roof and then the end of life—what happens once the tile has done its service on the building envelope," Kratz says. These certified products are 100 percent recyclable.
 
For many customers, recycling may not be a top buying factor, yet it is still seen as advantageous.
 
"In general, homeowners don't go in search of a product just because it has recycled content or it can be recycled," Burkett says. "But as they're factoring all the other things that are important to them, that can be the thing that then puts them over into making a selection."
Recognizing an entire system
The shingles and ventilation systems are not the only aspects of a roof, and some manufacturers are seeing more people purchase the system as a whole. Such a system often includes those pieces as well as underlayment, water barrier, strip shingles, and ridge or cap shingles.
 
"We have absolutely seen a significant increase in system sales," Videtto says. "It's not just the shingle that's influencing performance on your roof. It's very important that homeowners understand that it's an integrated system that will provide you enhanced protection."
 
Historically, contractors may just bend a field shingle over the ridge, but this can lead to issues with the roof's performance, according to Elliott.
 
"It's really important for the system performance to have a hip and ridge shingle that's dedicated as a hip and ridge shingle," he says. "These shingles are designed to work with the bend and then, of course, they're going to look a whole lot better too."
 
Another reason for looking into the system as a whole is the ability to get a warranty on the entire product.
 
"We have a system warranty that says we'll give you some extra non-proration or some extra wind warranty or we might even back it with some labor," Burkett says.
 
She has seen some contractors who will only purchase the system now and do not even offer clients the option of purchasing the components separately.
 
Whether the system as a whole or just the shingles, homeowners are looking for a high-performing roof that offers the design elements and customization they desire.
 
"Once people realize that you can do more with your roof, and you can actually use the roof as a design element in creating an exterior presence," Rosewall says, "It can change the whole ambience of an outdoor living space."