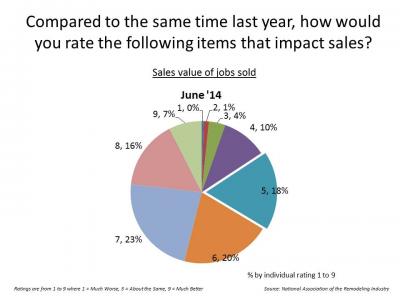 According to NARI's Remodeling Business Pulse, sales value of jobs sold bounced back up, to 6.20 (from 5.84 last quarter).
All current remodeling market indicators showed an increase in the second-quarter 2014 Remodeling Business Pulse (RBP) survey from the National Association of the Remodeling Industry's (NARI). Remodelers are currently seeing growth, from conditions in March, which had seen a decline in business conditions during the first three months of 2014.
Growth indicators in the second-quarter 2014 are as follows (rating is from 1 to 9, where 1 is much worse than a year ago and 9 is much better; 5 is about the same as last year):
Current business conditions increased to 6.29 (from 6.07 last quarter)
Number of inquiries increased to 6.38 (from 6.24 last quarter)
Requests for bids rose to 6.29 (from  6.16 last quarter)
Conversion of bids increased 5.83 (from 5.71 last quarter).
Sales value of jobs bounced back, to 6.20 (up from 5.84 last quarter).
"This quarter didn't show much change in conditions driving growth," says Tom O'Grady, CR, CKBR, chairman of NARI's Strategic Planning Committee. "People needing to do postponed projects remain the number one driver at 80 percent, and improving home prices, at 59 percent, continues at number two. What is encouraging — is that the value of jobs sold had a statistically significant growth."
Economic growth, at 47 percent, was the about the No. 3 condition driving growth, a jump from 37 percent in March.
The three-month for outlook for business, though, declined for the first time since September 2013, dropping in June to 6.32 from the previous high posted in March of 6.51. However, market activity remains positively weighted, with only 8 percent of remodelers reporting any level of decline versus the 70 percent who are seeing some level of growth.
"As the industry slowly recovers from the 2008 downturn and comparisons are being made to healthier year-ago periods, we may see these ratings soften some," O'Grady says.
Many of the comments attribute the negative outlook to two common themes: pricing and lack of skilled labor.
"Remodelers report that shortages are particularly acute for trained workers with basic carpentry skills to work in the field," O'Grady says.
The results were relatively equal across regions with the Midwest showing the strongest rating for current conditions at 6.39 versus 6.29 for the total United States. The outlook for future growth was strongest in the South at 6.42 versus 6.32 for the country.
To review the research in its entirety, please send your request to marketing@nari.org.
NARI is the source for homeowners seeking to hire a professional remodeling contractor. Members are full-time, dedicated remodelers who follow a strict code of ethics with high standards of honesty, integrity and responsibility. PR