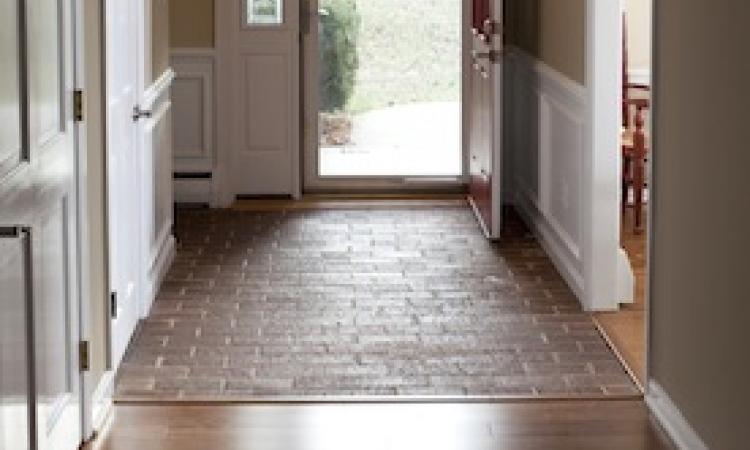 Universal design need not look institutional or bland. Perhaps the most appreciated aspect of this new kitchen by the clients i
Never mind that Jim Wolf had lived in his Media, Pa., ranch house for 19 years. He had never entered the powder room area of the 1959 house, and never used most of the kitchen equipment.
The reason is that he's been in a wheelchair since a 1983 diving accident. The step-down powder room area was not wheelchair accessible, and the kitchen features were out of reach or awkward to use.
That was okay when the house was a bachelor pad — Wolf shared it with five buddies to cover the mortgage — but priorities changed when he married Maureen in 2007. The Wolfs wanted to transform their house into a place that both would enjoy equally, an accessible home that functioned well and looked beautiful, but not "different." Contractor Eric O'Brien and Universal Design expert Patricia Nunan, CKBR, CKD, CAPS, made it all happen through practical problem solving and creative inspiration.
The team
It was natural for the Wolfs to contact O'Brien. His company, Eric O'Brien Construction, is based nearby in Media, and he lives in the neighborhood. When O'Brien took the Wolfs to visit similar 50-year-old, single-story houses in Media that he had remodeled, they knew he was the contractor for them. Not only did they appreciate O'Brien's quality work, they also got more ideas — a vaulted ceiling, for instance — to make their ranch home bright, open, and livable.
Having qualified for a $60,000 loan from the Pennsylvania Assistive Technology Foundation (PATF) to make the kitchen accessible, Jim asked the foundation to recommend designers. One of those designers, Patricia Nunan, Lifestyles Design, Perkiomenville, Pa., immediately stood out.
Company snapshot

---

Lifestyles Design

Owner: Patricia Nunan, CKBR, CKD, CAPS

Location: Perkiomenville, Pa.

www.lifestyle-design.com

Eric O'Brien Construction

Owner: Eric O'Brien

Location: Media, Pa.
"Pat's website represented what we wanted," says Jim. Her projects looked classy and well-crafted, he explains. In keeping with the principles of Universal Design, they "did not look accessible"; they simply looked well-planned and beautiful.
Nunan first met the Wolfs in June 2008 at their house. "She wasn't pushy," says Jim, and she clearly was comfortable working within their budget. She outlined a system of guiding clients through the decision-making process that was reassuring for them. They signed a contract with Nunan, and over the next several weeks she worked with the Wolfs and O'Brien to design a kitchen that looks polished and works well for both Jim and Maureen.
Kitchen decisions
The existing kitchen was dingy and cold, with dark wood cabinets, trim, and fake wood beams; worn linoleum flooring; drab light fixtures; minimal natural light; and ineffective, improperly installed baseboard heating. To reach the kitchen from the garage and ramp, Jim had to negotiate a narrow hallway and jostle around poorly placed doors. Once in the room, he could access the side-by-side refrigerator, but not much else. The kitchen faucet was out of reach, as was most of the shelving. Food preparation at the counter was not an option. Instead, Jim balanced the food items on a tray, took it to the dining room, chopped or otherwise prepared the food, and rolled back into the kitchen with the tray.
Nunan replaced all the cabinetry with cost-effective, semi-custom units. While Jim needed to be able to use sections of the kitchen, storage was scarce and Nunan did not want to reduce it by raising the toe kicks under all the base cabinets to the wheelchair accessible 9 inch height. Instead, she specified raised toe kicks at the sink and cooktop, enabling Jim to use these areas easily. Most of the countertops are a standard 36-inch height, accommodating full-size storage space and a 6-inch toe kick beneath.
The financials

---

Since launching Lifestyles Design nine years ago, Patricia Nunan says accessible design has grown to represent 90 percent of her company's business. Her design fee is calculated as a percentage of the final project cost.

"That way I stay with the clients" as the project develops, she says, and the fee is "fair for me and fair for them." The Lifestyles Design fee is 3 or 4 percent, unless the project is unusually complicated and time-consuming.

Because Jim Wolf has a disability, he qualified for a low-interest $60,000 home improvement loan through the Pennsylvania Assistive Technology Foundation (PATF). "Every state has an assistive technology office," says Nunan. When Jim and Maureen Wolf decided to expand the project, they found more money by refinancing their house. But, due to the economic downturn, the refinancing process was slow and put the remodel on hold for a year.

To assure that the Wolfs could make all the home improvements they wanted and needed without exceeding their tight budget, contractor Eric O'Brien says, "I did everything I could at cost." He went even farther in constructing the vaulted ceiling. "I agreed to do the ceiling for the cost of subs and materials," he says. "I did not charge for my labor." The labor appeared as a no-charge item on the invoice.
A 30-inch high counter in one corner of the kitchen is set up as Jim's work area, but at standard table height it's comfortable for Maureen to use too. Nesting the microwave in an easy-to-reach niche at counter height freed up surface space for safely transferring items in and out. Full-extension, slow-close drawers in the base cabinet hold utensils and equipment Jim uses regularly.
Next to this base cabinet, Nunan tucked a custom-designed cart with lockable casters and handles on two sides. When stowed under the counter, it looks like a two-shelf cabinet, where large items can be stored and easily retrieved. When Jim pulls out the cart, he has leg room to sit close to the counter. The cart functions as a handy butcher block work surface for food prep, and as an extra table that can be moved wherever it's needed.
Product list

---

Cabinets: Village Handcrafted Cabinetry

Cabinet accessories: Rev-a-shelf

Cook top, dishwasher, ovens: Thermador

French doors: Andersen

Kitchen faucet: Delta

Kitchen sink: Kohler

Powder room faucet and toilet: Kohler

Powder room sink: Stanford

Refrigerator: GE

Windows: Simonton
A full-height base cabinet in the corner of this part of the kitchen houses a Lazy Susan that captures otherwise wasted space, and brings supplies into view and reach.
Nunan is a believer in hands-on decision making. For optimal placement of the stacked wall ovens and their controls, she had Jim go through the motions of using both. When the time came to create templates for the granite counters, she inserted a plywood place holder for the kitchen sink. Jim and Maureen tried different places for the faucet and control, choosing a separate, side location for the control. The high-arc faucet works for both Jim and Maureen, and Jim finds the pullout spout handy for filling pots.
Visits to showrooms yielded intelligence on appliance models and placement that work best for Jim. Raised height dishwashers or dishwasher drawers often are recommended for accessibility. Jim discovered, however, that a standard height dishwasher was easiest for him to use, and had the advantage of not interrupting the countertop flow.
When Nunan sent the Wolfs to look at refrigerators, she advised them to open the doors and see how many shelves Jim could reach. She also advised them not to choose a high-end model. Why? The suction is so tight that the doors can be difficult to open, she says. The Wolfs found a high-quality refrigerator with handles and shelving that "fit" for Jim.
Jim and Maureen selected cabinet door and drawer pulls in an easy-grip D style with extra depth to accommodate Jim's large hands. The stylish pulls complement the stainless steel appliances and the warm cherry cabinetry finish that Maureen chose. Recessed fixtures, under-cabinet lighting, and French doors to the deck fill the room with ambient, task, and natural light.
The Wolfs bought bamboo flooring to replace the worn linoleum. But under layers of old flooring, O'Brien found the original random wood-pegged oak floor. Too good not to salvage, he told them. He repaired and sanded the floors and refinished them in a fresh, light tone; the Wolfs used the bamboo in other rooms.
Big difference
Once they saw wider possibilities for enhancing their ranch house, the Wolfs refinanced it, increased their remodeling budget, and asked Nunan and O'Brien to do more.
Altering the back entry and adjoining spaces netted many

improvements. O'Brien eliminated the step-down here by re-sleepering the floor at the same height as the kitchen. He widened the powder room hall, extended the powder room, and framed a 36-inch wide doorway to the room. Nunan redesigned the room for good looks and easy access, specifying a comfort height toilet and placing a small, stylish sink where it doesn't intrude into the circulation area.
Jim entered the back of the house via a ramp to a screen porch. O'Brien shifted the ramp, widened the kitchen door and moved it to a convenient place off the porch, and built an 8 by 10-foot addition under part of the porch roof. The addition houses a fully accessible laundry room featuring 4-foot pocket doors that provide wide entry to the laundry without blocking space.
The new laundry room freed space to be repurposed. O'Brien could not remove the old laundry wall to make the kitchen even larger, because the main beam and electrical conduit from the garage ran through it. The cost would be prohibitive. Instead, Nunan turned the wall into an asset, placing pantry shelves on the kitchen side and, on the family room side, inserting a low closet for Jim's audio-visual equipment.
Budget history

---

Initial estimate: $60,000

Bid additions: $19,029

Final construction estimate: $79,029

Add-ons: $7,639 (including vaulted ceiling engineering and materials, $1,984; electrical upgrades, $1,745; roof framing repair, $950; added insulation, $894; new building  permits, $882; repair termite damage, $690; other)

Design, products covered directly by owner: $19,730 (granite, tile, bamboo flooring, finish hardware, other)          

Labor covered directly by owner: $8,602 (cabinet installation, existing floor refinishing, other)

Final project cost: $115,000
While walls and ceilings were open, O'Brien fixed the original, improperly installed heating system; brought kitchen wiring up to code; added air conditioning registers and attic insulation; installed insulated windows; and put in French doors that will provide wide access to a deck that's on the list of future home improvements.
The Wolfs wanted to add a vaulted ceiling to connect the kitchen with the adjoining family/dining area. O'Brien had vaulted ceilings in other ranch houses, and they loved the way it opened and blended the spaces. But when he opened their ceiling, he found that the front roof rafters were sitting on headers with no supporting tie. Consulting an engineer, he tied the framing members back in and built the vaulted ceiling.
"It makes such a difference," says Jim. "We can sit around the fireplace or at the dining table with friends, while someone is in the kitchen cooking," and enjoy a beautiful, unified gathering space. "We're thrilled with it," agrees Maureen.
"The biggest thing about this project," says Nunan, "is that it's designed for both Maureen and Jim, and not just for somebody who uses a wheelchair." The space functions well for both. And Maureen told Nunan, "Now Jim can use his whole house."
That, says Nunan, "is the best compliment." PR