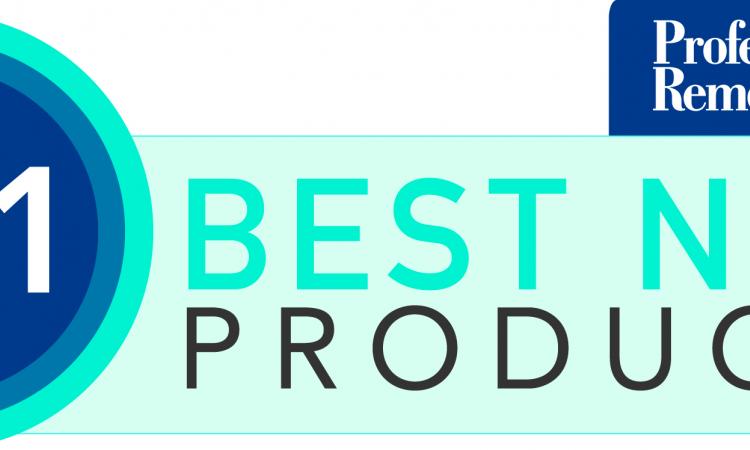 Featuring products from AirStone, ElDorado Stone, Moen, Hansgrohe, MTI, Sherwin-Williams, Sterling, Zurn, Azek, Big Ass Fans, ComfortGeni, Delta, Duravit, GRAFF, Kohler, Lutron, Nuheat, Outwater, Perlick, ThinkGlass, Surface White, Ann Sacks, Danze, Honeywell, Laticrete, Panasonic, Rheem, Wilsonart, Benjamin Moore, Geberit, Schulter Systems, Weyerhauser, Broan Nu-Tone, GAF, VT Industries, KILZ, and Aquatic.
1) AirStone Ultra-Light Veneer
These ultra-light wall stone veneers from Baton can be installed using only pre-mixed adhesive, a putty knife, and a hacksaw. The individual stone pieces fit precisely together so grouting is not required and they adhere directly onto any wall or fireplace. They are comprised of a proprietary formula, which makes them 75-percent lighter than real stone and 50-percent lighter than manufactured concrete stone. The AirStone product line comes in the grey-tinted Spring Creek color as well as a brown-tinted Autumn Mountain color.
2) Eldorado Stone Soho Boutique Fireplace
The Soho Boutique is the latest addition to Eldorado Stone?s Eldorado Fireplace Surrounds collection. It is available in three colors: Oyster Shell, Oak Barrel, and Summer Wheat. The colors are available in three finishes: Honed, a smooth finish; Travertine, a rustic surface; and Antique Castello, a European-inspired finish. Fireplaces in this collection come with an installation kit featuring mounting brackets and matching trim kit.
3) Voss Collection by Moen
The Voss bathroom collection by Moen is a line of faucets, accessories, and shower products that blend traditional and modern styling in one collection. All faucet options within the collection meet the EPA?s WaterSense criteria and allow water to flow at 1.5 gallons per minute. The faucets are available in Chrome, LifeShine Brushed Nickel, and Oil Rubbed Bronze finishes and can be applied in a single-handle, single-hole mount application, as well as two-handle widespread, centerset, and wallmount platforms.
4) Hansgrohe?s Raindance Select Showerpipe
This new showerpipe boasts a handy shelf that doubles as a thermostat. Blue and red markings on the thermostat indicate hot and cold; and, the shelf always maintains a neutral temperature, even when extremely hot water is used. The product features three spray modes: a soft ?Rain Air,? a five-jet ?Whirl Air,? and a combination of the two. The pipe and all components are available in a chrome or chrome/white dual finish.
5) MTI Teak Shower Seats
Wall-mountable, this smooth and durable teak shower seat can be used indoors or outdoors. It can be folded into a raised position against the wall when not in use. Flat slatted teak lets water and soap run through, so there is no slippery residue. The teak slats, which are 1 x 2 inches thick, naturally ward off fungi, mold, and mildew. Weight limit for the shower seat is limited to 500 lbs.
6) Emerald Interior/Exterior Paints and ColorCast Ecotoner Colorants
Sherwin-Williams? Emerald Interior and Exterior paints are durable and self-priming for a high-quality finish achieved with fewer coats. Emerald paint is tinted with ColorCast Ecotoner colorants, which provide better color accuracy and vibrancy. Both Emerald paints and ColorCast Ecotoner colorants are zero-VOC. This technology is in all Sherwin-Williams stores, meaning the entire line of Sherwin-Williams water-based paints and colors are now tinted with zero-VOC colorant.
7) Sterling Accord Seated Shower
The Accord Seated Shower sports a wide removable bench, storage, and space. It includes factory-installed backboards that make the shower grab-bar ready if stability is needed. The seat can be positioned at either end of the shower. Made of solid Vikrell material, the four-piece modular design is easy to install, with caulkless seams and snap-together walls.
8) Zurn ZS880 Stainless Steel Linear Shower Drain
The Zurn ZS880 eliminates water pooling with its patent-pending adjustable frame and grate. Customizable for nearly every project, this drain comes with adjustable anchoring feet and built-in membrane flange, making installation quick and easy. The sturdy, stainless steel construction and integral tiling edge deliver years of corrosion-resistance and tile protection, keeping the Zurn ZS880 looking like new.
9) Azek Moulding Profiles
Azek Building Products is expanding its Azek Architectural Moulding Series in 2013 with four new profiles to take creativity as well as time and labor savings even further. The low-maintenance Azek Colonial Base Cap, Bed Mould (3-inch), Imperial Rake Crown (pictured), and Wainscot Cap feature detailed craftsmanship reminiscent of old-world, milled mouldings. They are durable and easy to install with long-lasting looks that never require paint for protection.
10) Haiku Ceiling Fan
Unlike traditional ceiling fans, which are designed primarily to maximize performance, the Haiku ceiling fan from Big Ass Fans offers both performance and beauty. Made from sustainable Moso bamboo, the fan?s airfoils seamlessly blend with the central motor, resulting in a smooth, stylistic aesthetic. Haiku measures 60 inches in diameter and comes in Caramel or Cocoa Bamboo, or Matrix Composite in black or white.

11) Through-wall Fan from ComfortGeni
The ComfortGeni model Geni 6xr is an easy-to-install through-wall fan that increases airflow from room to room or level to level, enabling consumers to enjoy the warmth from their fireplace or pellet stove in any room. Engineered to increase the area that wood, pellet, and gas appliances heat, the ComfortGeni uses no more electricity than a 14-watt light bulb and costs less than $5 a year to operate. ComfortGeni can also be used to enhance a home?s existing HVAC system. When used as a register booster fan, the three-speed fan improves the central heating and cooling in that room.
12) Delta Cassidy Lavatory Faucet
Influenced by the classic shape of a female silhouette with cinched waist, the Delta Cassidy lavatory faucet brings versatility to tradition. It meets WaterSense requirements, flowing at a rate less than the industry standard of 2.2 gpm and providing up to 32-percent water savings. Available in three handle options?French curve, classic cross, and stately traditional lever?the faucet also comes in five finishes: Chrome, Stainless, Champagne Bronze, Venetian Bronze, and Polished Nickel.
13) Duravit Kiora Kitchen Sink
Designed by Sieger Design, Duravit?s Kiora is a straight-lined kitchen sink with a 2-inch-wide frame around the sink that tapers inward to provide splash protection. The easy tilt of the drain board allows water to flow off plates, pots, and pans back into the sink. Available in surface-mounted and drop-in variations, the sink is reversible as a right- or left-handed bowl. Kiora comes in White, Pergamon, Chesnut, Anthracite Matte, and Black finishes.
14) GRAFF Qubic Faucet
The Qubic faucet is deceptively simple. Its edges are aligned, even around the diamond-edged cut in its handle, and combined with straight right angles. Contemporary European styling defines Qubic, from its polished chrome base to the tip of its elegant spout. Available in six finishes?Polished Chrome, Steelnox, Polished Nickel, Olive Bronze, Architectural Black, and Antique Brushed Nickel?the Qubic faucet is equipped with a low-flow aerator (1.5 gpm) and meets ADA standards.
15) Kohler Linwood Bathroom
Faucet Collection The Linwood bathroom faucet collection pays homage in a modern form to enduring traditions and elegant simplicity. Rooted in casual and comfortable design, its sculpted thick-to-thin proportions call to mind the artisanship and quality of forged metal. The 4-inch centerset Linwood faucet comes with 21-inch supply lines attached, and the 8-inch widespread faucet comes with preassembled handles, making installation fast and convenient. The entire collection is available in Brushed Nickel, and the centerset faucet is also available in Oil-Rubbed Bronze.
16) Lutron Coulisse Collection
Oriented on design and innovation, this collection of motorized window treatments includes more than 700 types of fabrics and materials for roller shades, honeycomb shades, pleated fabrics, and a variety of materials for Venetian blinds. It is based on an inspiration process in which the latest trends in homes and buildings, fashion designs, and classic patterns merge in shading and interior design. The collection is presented in four books, each representing a unique look and atmosphere.
17) Nuheat Floor Heating Cable
Floor heating system manufacturer Nuheat has introduced a redesigned free-form floor heating cable, Nuheat Cable, which offers some of the industry?s largest sizes, covering up to 240 square feet using a single kit. The new system is 33-percent larger than the company?s previous offering and can cover large spaces such as basements, hallways, and living rooms. Other improvements include patent-pending cable guide design and thinner factory splice.
18) Outwater Traditional Staircase Elements
Outwater?s new line of Powder Coated Wrought Iron Elements is available in round and square plain formats, along with an assortment of designs in Satin Black, Copper Vein, Antique Nickel, and Oil-Rubbed Copper and Bronze. The complementary line of Traditional Handrails and Fittings in Red Oak provides an aesthetic and functional opportunity to create an architectural focal point. Outwater offers straight and bendable rails in 12-foot lengths, as well as the necessary fittings to complete a staircase.
19) Perlick Signature Series
Stacking Kit This new stacking kit replaces a standard, upright refrigerator with two Signature Series 48-inch refrigerated units, providing more choices and 24 cubic feet of storage capacity. The series also features stainless-steel construction along with 2-inch foamed-in-place insulation. The stacking kit includes anti-tip brackets as well as grill and mounting plates to meld together a variety of options of stackable refrigeration.
20) ThinkGlass Staircase
ThinkGlass has perfected its cutting-edge technology to eliminate lamination lines, allowing the polished edge of glass treads to showcase the beauty of pure glass?making glass staircases a real and popular option. Glass treads of 1.5-inch thickness are up to three times stronger than granite or stone, and can bear a load of up to 1,800 pounds at the center of a 36-inch-wide tread.
21) Surfaces White Collection
This new glass wall tile series offers the look of an arctic glacier and the cleanliness of a fresh snowy landscape. The collection is available in four varieties: 12 x 12-inch sheets containing 36 (2 x 2-inch) chips, 12 x 13-inch sheets of 1 x 2-inch chips, 13 x 12-inch sheets of varied-sized chips, 5 x 10-inch liners tiles, and 4 x 10-inch tiles. The line is offered in multiple colors, including White Brick and Polar Diamond.
22) Ann Sacks Marone Toscano
The Marone Toscano travertine marble is the latest addition to the Ann Sacks line of Tuscan stone. It features a rich chocolate brown background and delicate taupe and cream veining. Quarried in a region of Italy that is especially prized for its travertine, Marone Toscano is a strikingly handsome option that is suitable for all indoor flooring applications, as well as many weather-appropriate outdoor settings.
23) Danze Florin Five-Function
Showerhead The Florin 4.5-inch five-function showerhead meets strict requirements set by the EPA?s WaterSense program for water efficiency, using 20-percent less water than a standard showerhead. The five functions include wide, centeriet, aeration, massage, and wide+centeriet. The easy-glide selector ring features a lever for easy switching between functions. Danze Intenze
24) Prestige IAQ and VisionPRO
8000 Thermostats Two smart thermostats from Honeywell can be controlled remotely from a mobile device with the Total Connect Comfort app, available through iTunes and Google Play. Prestige IAQ monitors and tests a heating and cooling system every time it turns on. If it?s not at peak efficiency, the thermostat alerts the homeowner. VisionPRO 8000 can be customized to suit any individual or family?s needs via the Portable Comfort Control accessory, which has a built-in temperature sensor.
25) Hydro Ban Shower System Line
Laticrete has expanded its Hydro Ban line of shower system products. The line now includes a pre-sloped linear shower pan, preformed benches and shelves, and new drain finishes. The new drain finishes include brushed, polished, oil-rubbed bronze, and tile-in-grate versions. A new 42-inch linear drain will also be added to the sizes offered.
26) WhisperGreen LED Ventilation Fans
WhisperGreen LED Energy Star-rated fans/lights from Panasonic Eco Solutions provide spot and whole house ventilation. The 12-watt LED light engine with a one-watt LED night-light provides warm, energy-efficient illumination. The fans increase the airflow to achieve the specified CFM output. The models include a dual adaptor for 4- or 6-inch ducts, are HVI certified and comply with ASHRAE Standard 62.2, LEED for Homes, Energy Star Indoor Air Quality Program, CalGreen, and California Title 24.
27) Rheem Condensing Power Direct Vent Water Heater
The new Energy Star-qualified high-efficiency condensing power direct vent water heater from Rheem is the first in the industry to employ high-efficiency condensing technology in a residential tank design. The water heater delivers more heat to the water and produces less heat exhausts from the vent. The cooler flue gases permit venting through 2- or 3-inch PVC piping. The unit also comes with a factory-installed exhaust riser, which vents at the top of the unit.
28) 2013 Wilsonart HD Collection
Wilsonart?s newest high definition laminate collection focuses on nature as artwork, offering sustainable alternatives to natural stone. The collection features six designs: Cosmos Granite, Golden Romano, Bianco Romano, Florence Gold, Summer Carnival, and Winter Carnival. Homeowners can create any look they desire with 57 designs, three surface textures, three decorative edge options, and eight integrated sink configurations.
29) Benjamin Moore Grand Entrance
Benjamin Moore developed this new coating to protect a home?s front door and trim from exposure to the elements via the company?s low-VOC waterborne alkyd resins technology. Sold in quart sizes, Grand Entrance is available in a wide range of colors; Benjamin Moore also offers a specialty color card with 32 popular hues. Sheen availability includes High Gloss and Satin.
30) Geberit Monolith
The Geberit Monolith Tank and Carrier System for floor-mount toilets is designed to give the toilet tank a sharp, modern look. A dual-flush mechanism uses 1.6 and 0.8 gpf. The system is secured to the wall and can be used in almost any remodel without needing to make structural changes. It is made of materials such as safety glass and metal and is available in black or white.
31) Shower Niche by Schluter-Systems
Schluter-Systems has added four fully waterproof, properly sealed shower niches to its product line. The prefabricated niches are ready to tile and feature a ½-inch thick by 2-inch wide bonding flange to sit flush with the surrounding wall area. The niches come in four sizes ranging from 12 inches by 6 inches to 12 inches by 24 inches. The larger sizes also offer a prefabricated shelf to create separate compartments.
32) Weyerhaeuser Hardwood Edge OSB Flooring
Hardwood Edge is a new oriented strand board (OSB) floor panel, the first in the industry designed specifically for use under hardwood floors. The enhanced dimensional stability and high density make for easy fastener holding. Minimal sanding is required thanks to Down Pore technology ? three specially shaped grooves at the end of each panel to eliminate standing water ? and the proprietary edge seal.
33) Broan-NuTone LoProfile Fan
The Energy Star-certified LoProfile fan from Broan-NuTone is designed for retrofit applications and multi-family new construction. It can be installed between 2x4?s and includes a 4-inch oval duct connector and transition for 4-inch oval to 3-inch round ducts. The fan is engineered for continuous operation at 80 CFM and exceeds the ASHRAE 62.2 minimum intermittent local ventilation requirement for bathrooms.
34) GAF TruSlate
Two distinct families are available in GAF?s new TruSlate color line. The Americana Collection offers colors and styles popular throughout North America, including Meadow Green, Charcoal, Autumn Dusk, Antique Purple, and Rustic Red. The International Collection features Greystone, Mystic Grey, and Onyx Black. Colors and styles can be mixed and matched to achieve any desired effect; all slates are ASTM C406-S1 rated.
35) VT Dimensions Countertops
This new line of countertops from VT Industries offers a wide array of proprietary edge profiles, surface options, and in-stock colors, ultimately creating the seamless look of granite. All countertops are formed as one single piece, from the backsplash to the front edge, with a surface that protects against dirt and grime collection. All countertops are GreenGuard and FSC certified and feature biodegradable, water-based adhesives.
36) KILZ MAX Primer
This water-based primer acts as a stain-blocker, odor-blocker, and sealer in one product, with results comparable to most oil- and shellac-based primers. The primer itself is low-VOC and requires only soap and water for cleanup, rather than solvents or denatured alcohol. The primer is suitable for use on a wide variety of interior surfaces from drywall and brick to painted metal and glass. 

37) Aquatic Starla Tub
This acrylic drop-in is Aquatic?s smallest oval hydrotherapy tub, and will fit within any standard 60-inch bathing alcove at 57 x 38 x 24 inches. Soaker and whirlpool models are available. Features include eight adjustable whirlpool jets, sculpted armrests, an oversized backrest and raised headrest, and a slip-resistant floor.