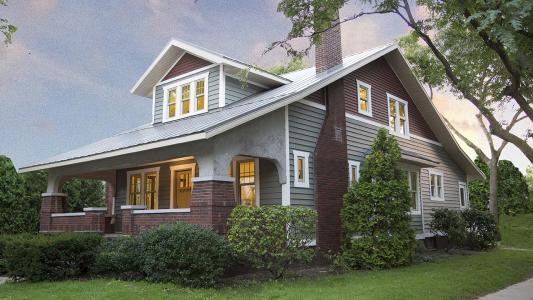 The products donated by Ply Gem are part of The Designed Exterior by Ply Gem, a complete exterior solution offering nearly every product needed to finish the home, including windows, siding, stone veneer, railing, trim, accents, doors, roofing and more. Photos: Doug Hyland 
Ply Gem is sponsoring the ReNEWW (Retrofitted Net-Zero Energy, Water and Waste) house, a Purdue University net-zero energy project. Ply Gem provided most of the exterior, including windows, doors, siding and trim, to help the university reach its goal of making the 1920s craftsman-style home a net-zero housing unit for visiting graduate students.
Located in the heart of West Lafayette, Ind., the ReNEWW house is a three-year project started by Whirlpool Corp. and Purdue University to house graduate engineering students from Whirlpool, who will use the house as a living laboratory. In addition to Ply Gem's energy-efficient products, the completed house will have solar panels on the roof that produce electricity and hot water. Other water- and energy-saving systems have been implemented, which will collect typically unusable radiant heat and greywater and use it for other processes within the home.
Specific features of the ReNEWW home include the following: 
EcoSmart Windows from Ply Gem's Great Lakes Window brand. These 36 windows provide complete insulation and a weather-tight seal. The product is Home Innovation National Green Building Standard (NGBS) Green Certified and is the most energy efficient option from the Great Lakes Window brand.
Four custom-built doors with a sustainable composite frame, fiberglass panels and the new High-Performance Door Sill from Ply Gem. The two back doors feature a large glass center glazed with Eco Max Shield 366, formulated to let light stream in while reducing solar heat gain, providing year-round comfort.
Insulated siding and trim from Ply Gem's Mastic Home Exteriors brand. The Structure Home Insulation System siding and Cellular PVC trim work together to seal the home and minimize air leakage. The siding is also Home Innovation NGBS Green Certified for recycled content.
For more information on Purdue University, please visit www.purdue.edu. PR