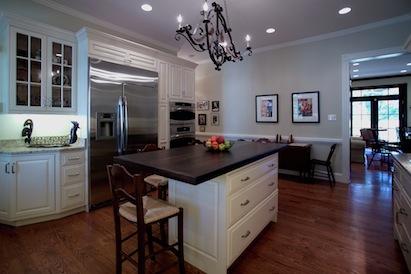 NKBA Index shows optimism in kitchen and bath market
According to the National Kitchen & Bath Association (NKBA), kitchen and bath dealers remain undeterred following a challenging quarter across various industry market conditions including showroom visits, sales volumes, remodeling budgets and revenue. The NKBA Kitchen & Bath Market Index (KBMI), which forecasts the confidence of kitchen and bath dealers on a scale of -60 to +60, is +21 for Q3 2011. While positive, the +21 KMBI is down slightly from +33 and +37 during the second and first quarter of 2011, respectively.
That's a sharp contrast with recent builder and remodeler indices, which have found them to markedly negative about current and future market conditions.
"Despite relatively flat market conditions during the second quarter, the kitchen and bath dealers did report positive increases in revenue quarter-over-quarter and year-over-year, which certainly helps encourage cautious optimism," stated Bill Darcy, executive vice president of the NKBA. "However, the reality of high unemployment and low consumer spending suggest that the kitchen and bath industry along with many others will continue to face a tough road in the near future."
NKBA KBMI Methodology
The NKBA KBMI is determined by averaging expectations of NKBA member kitchen and bath dealers during the next quarter based on expected increases (+1), decreases (-1) or no change (0) in each market condition. That total is divided by the number of dealers surveyed and multiplied by 10, which gives the KBMI a range of -60 (pessimistic) to +60 (optimistic). The NKBA KBMI surveys approximately 150 kitchen and bath dealers across North America each quarter.
 NKBA KBMI Highlights
Showroom visits

Down 18 percent from previous quarter; up 15 percent from previous year
51 percent anticipate an increase in Q3; 5 percent anticipate a decline

Kitchen remodels sales volume

Up 1 percent from previous quarter; up 21 percent from previous year
55 percent anticipate an increase in Q3; 4 percent anticipate a decline

Kitchen remodeling prices

Up 11 percent from previous quarter; down 6 percent from previous year
18 percent anticipate an increase in Q3; 7 percent anticipate a decline

Bathroom remodel sales volume

Up 2 percent from previous quarter; up 7 percent from previous year
44 percent anticipate an increase in Q3; 2 percent anticipate a decline

Bathroom remodeling prices

Down 13 percent from previous quarter; down 15 percent from previous year
18 percent anticipate an increase in Q3; 6 percent anticipate a decline

Kitchen and bath revenue

Up 6 percent from previous quarter; up 8 percent from previous year
49 percent anticipate an increase in Q3; 8 percent anticipate a decline