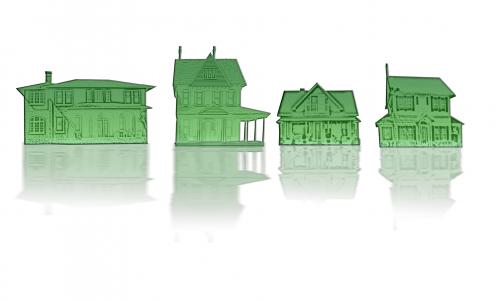 Builders expect that homes will be both smaller and greener in 2015, a survey by the National Association of Home Builders revealed.
The homebuilders surveyed estimated that the average new home in 2015 will measure 2,152 square feet, 10 percent smaller than the average home in 2010. They said the average new home in 2015 will include a great room, a master bedroom and bathroom on this first floor with a walk-in closet, a laundry room, ceiling fans and a two-car garage.
Most builders believed they would save the most square footage in the living room. Fifty-two percent said the living room would merge with other spaces, while 30 percent said it would disappear completely. They also said the relative size of the dining room and foyer would shrink.
The family room is the only space that is expected to grow—54 percent of builders said the size of this space would increase.
The survey also showed that homebuilders expect homes to be more environmentally friendly in 2015, with more green features and technologies and an EnergyStar rating for the entire home.