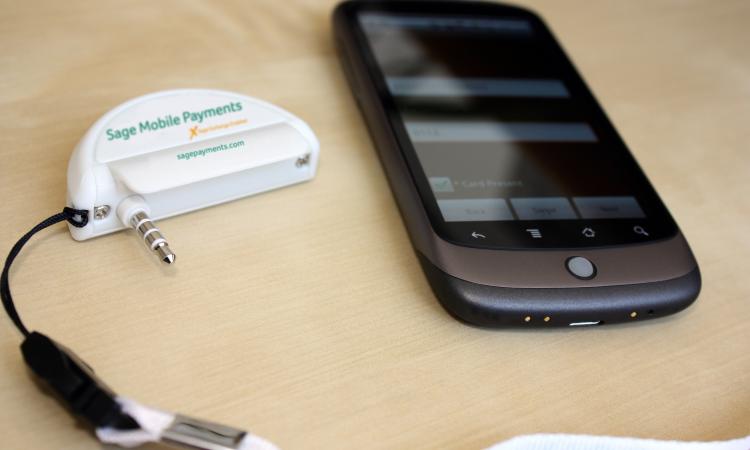 Leveraging cell phones as part-time credit card terminals can be both cost-effective and convenient.
A recent Sage survey showed businesses are progressively using mobile devices to access work-related information remotely, with laptops (80 percent) and smart phones (81 percent) the most common devices used by employees, followed by tablets (57 percent).
For many businesses, mobile devices are an extension of the office. They support collaboration of internal departments by enabling seamless integration between the field and office. For more and more businesses, mobile devices provide a cost-effective and convenient way to receive customer payments.
What are the benefits?
1. More closed sales
Using a mobile-payments product is a good way to maximize your sales channel. You may be able to close the sale more often if you're accessible in all the places your customers want to buy from you. Forcing your customer to pay a certain way—by calling, mailing a check, or physically coming to your office—could seriously limit your opportunities.
It's important not only to be able to accept all types of payments, but also to be paid at the time of service, especially when dealing with new customers. Being able to swipe credit cards at the jobsite can enhance the customer experience and decrease trips to the bank.
"We used to write the card information on our work orders, giving a slight chance of the information falling into the wrong hands," says Russ Tantillo, service manager for Fairfax, Va.-based Clover Services, a division of Clover Contracting, Inc. "Now, we swipe the credit card and we're done."
2. Less investment, more cash flow
Leveraging cell phones as part-time credit card terminals can be both cost-effective and convenient. Dedicated mobile credit card terminals can cost upwards of $400 and require a monthly cellular plan. Converting cell phones into instant credit card acceptance devices that flow directly into your business' bank account can enable instant distribution across your company, with no extra hardware or systems costs. Plus, it allows everyone in your company to take an order, and some products settle to your bank account in less than 48 hours.
"The instant e-mails to me from the mobile-payments product tell me exactly how much money is coming in and help me manage cash flow much easier," says Tantillo.
3. More integration, more freedom
Some mobile-payments vendors allow you to connect your mobile-payment devices and transactions to your accounting software in real-time, automatically integrating these typically disconnected components in your general ledger. This allows the mobile solution to act as a stand-alone payment device and as an integrated payments extension of your accounting software.
A tight connection between an accounting system and a mobile-payments product can allow you to complete such tasks as invoice lookup and payment. These mobility services can truly liberate you from your office to be where your customers are, while eliminating the need for manual data entry to make your business life easier.
Is it easy?
Because customers are already comfortable with the concept of swiping a credit card at a payment terminal, transitioning to a card swipe on a mobile device is seamless. Additionally, for the merchant, converting to mobile payments generally requires no training or advanced setup.
A major benefit of mobile payments solutions is that little equipment is required. The best mobile-payments products work with a large number of cell phones and mobile computing devices, including tablets. You'll likely want to invest in a plug-in card reader device, or swiper, offered by most mobile-payments vendors, because swiping a card can improve a customer's overall payment experience and usually offers a lower processing fee for the merchant.
What about security?
Security and compliance are vital considerations when evaluating any type of payment product or service. You should look for a Payment Card Industry best-practices mobile provider that places a high priority on the security aspect of mobile payments, which starts with the credit card swiper.
Mobile-payments vendors relying solely on software to encrypt transactions aren't reliable or safe. Any hardware plugging into the audio jack should offer hardware-based encryption to help ensure confidential credit card numbers and other transaction data aren't stolen.
Industry research and advisory firm Forrester Research predicted the U.S. mobile payment market will grow to $90 billion in 2017—a 48 percent compound annual growth rate from the $12.8 billion spent in 2012. Now is the time to research the best mobile-payments options for your business. PR

--

Rob Bertke is senior vice president of research & development at Sage Payment Solutions, a division of Sage North America.