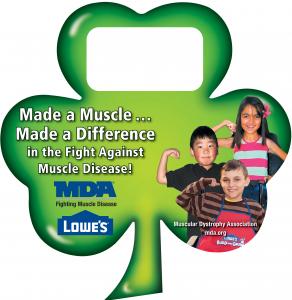 Lowe's stores across the country will once again team up with the Muscular Dystrophy Association for the 32nd annual Shamrocks mobile program to help raise funds for children and adults affected by muscle disease.
Now through March 31, customers can spread some extra luck to MDA families by purchasing and signing a $1 green, $5 gold or $20 platinum Shamrocks mobile while shopping at a Lowe's store in their area.
"We appreciate the support and enthusiasm of our employees and customers throughout the past several years," said Lowe's Director of Community Relations Joan Higginbotham. "Their dedication helps strengthen our commitment to our neighbors and communities, and we know we can count on them to help make the Shamrocks program a success again this year."
Lowe's first teamed up with MDA in 2001. To date, Lowe's and its customers have raised more than $38 million for MDA.
"We're grateful to have the support of a company like Lowe's that is devoted to improving the lives of its employees and communities while helping more than 1 million Americans affected by neuromuscular disease," said MDA Executive Vice President and Chief Executive Officer of Income Development Ann McNamara. "With Lowe's support, we are able to fund life-changing programs and MDA summer camps for the families we serve."
Funds raised from Lowe's Shamrocks sales will help send thousands of local children affected by muscular dystrophy and related diseases to a weeklong, barrier-free MDA summer camp at nearly 80 locations throughout the United States.
For up-to-date information about the 2014 MDA Shamrocks program, visit mda.org and follow us at facebook.com/MDAnational and @MDAnews. PR