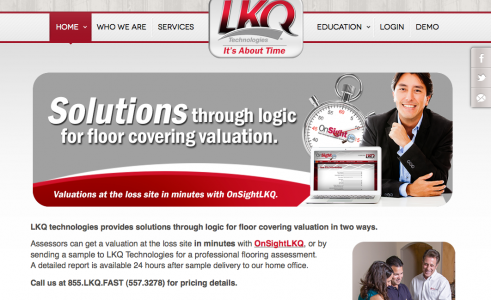 The OnSightLKQ system, launched by Florida start-up LKQ Technologies, has forever changed the flooring claims process for adjusters, restoration companies, and homeowners. Until now, adjusters and property restoration professionals had very few resources to help them calculate "like kind and quality" (LKQ) pricing of various floor coverings.
The patent-pending OnSightLKQ system is an on-site, web-based process that allows the assessor to determine replacement cost value in 10 minutes or less, as opposed to waiting several days and spending more money on results from a laboratory. The system allows the customer to participate in the logical process of identifying the damaged flooring, thus reducing valuation pushback. Ultimately, OnSightLKQ significantly reduces cycle time and claim costs of the replacement cost value assessment process, while increasing customer service satisfaction.
"OnSightLKQ makes the flooring valuation process 100 percent transparent -- it's exactly what the insurance and restoration industries have been waiting for," said Steve Leger, President of LKQ Technologies. "The system helps claims professionals close files faster, while building true and lasting relationships with the policy holders."
The secure OnSightLKQ website uses deductive reasoning logic supported by a database compiled of virtually every carpet variation to produce a concise and accurate valuation report. This report not only lists the value, but the manufacturing measurements of the damaged carpet for easy replacement. OnSightLKQ will soon offer a referral report option, which highlights approved retailers in the homeowner's zip code.
"After the successful launch of OnSightLKQ within the PuroClean system, we decided it was time to truly penetrate the market and service the needs of insurance and restoration companies alike, without any bounds of exclusivity to select brands," said Leger. "This move will allow OnSightLKQ to become the most identifiable alternative to the traditional laboratory process of flooring valuation." PR