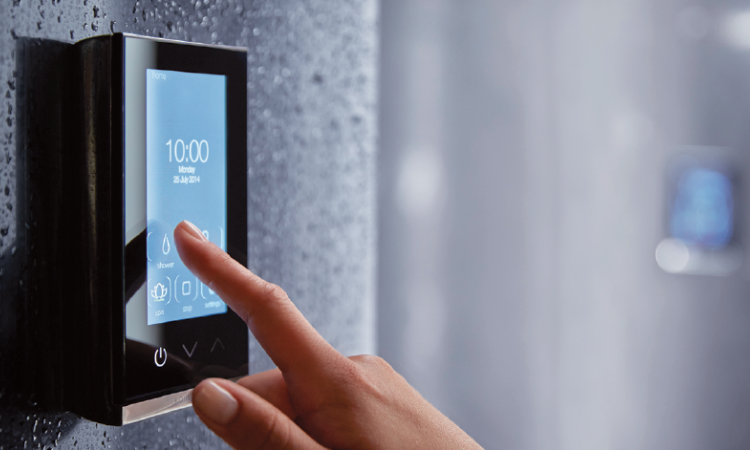 Kohler DTV+: This decadent, therapeutic shower system redefines what's possible.
The DTV, introduced in 2006, was Kohler's first custom digital shower system. Then, in 2015, Kohler released the DTV+ featuring a redesigned touchscreen (main image, above) and the ability to connect two digital valves to the same system. The base package includes a touchscreen, mounting bracket, and system controller that goes outside the shower.
The controller provides a way to operate valves and independently adjust water temperature for each showerhead in the system. "You may want to have two areas of showering," says Les Petch, Kohler's senior product manager–performance showering. "For a his and hers shower, it's great."
But that hardly scratches the surface because the DTV+ is almost poetic in its versatility. Users can select a setting called Breathe, which provides separate water temperatures to the head and shoulders, and then alternates them. "It's great for relieving sinus pressure," Petch points out. Another configuration, which is more of a pick-me-up, features timed intervals of hot and cold water across your body. There's also lighting, music, steam, and a host of other add-on options. The DTV+ has three digital valves available: two port, three port, and six port.
Fiberon Composite Cladding: Decking that goes beyond decks to serve as a rainscreen system.
There's no shortage of composite siding products on the market, but Fiberon is perhaps the only company that encourages fastening its deck boards to the side of the house. When used in a rainscreen siding system, the square-edged version of its capped composite deck boards is durable and easy to maintain and achieves a streamlined, contemporary look.
Rainscreen details assume that water always makes its way behind the cladding, so the building is protected by a water-resistant barrier (WRB). The cladding sheds bulk water, but is spaced off the wall to promote drying. While lapped siding is commonly used in rainscreens, installing boards in plane with gaps between them works just as well, maybe better, because it allows for air to circulate between and around each board.
So, yes, after installing a proper WRB, you can face-fasten Fiberon Composite Cladding to UV-resistant 1x3 furring strips using deck screws or Cortex screws and plugs. (For vertical cladding, run a second layer of furring perpendicular to the first.) Boards and butt ends should be gapped 1/8 to 3/16 inch, with bug screen installed top and bottom.
Made with 94 percent recycled material, the 1x6 Fiberon cladding is available in 12-,16-, and 20-foot lengths in matte or smooth finish. A choice of eight colors include grain patterns and color streaking that give the material the appearance of natural wood. The cladding system has a 20-year limited warranty on finish, cracking, and delamination; five years on fading.
AGS Stainless Elliptical Handrail: A new railing from AGS provides a specific design solution. 
There are different ways to handle the infill for a railing system, and while cable has exploded in popularity, bar rails are still ideal in certain settings, especially more traditional homes. 
When it comes to bars, most people prefer a horizontal option, but some communities no longer allow them due to concerns that they are irresistible to climbing children. This new handrail from AGS with vertical bars solves the problem and is selling "very well" since its debut at the Remodeling Show last October, says Kevin Harris, director of sales and marketing for AGS Stainless. 
The railing comes in three finishes: brushed satin (shown), passivated, and polished. "But in terms of customizing it, the color options are infinite," Harris adds. "We did one for Dave & Buster's [restaurant] in green."
The handrail itself is also a new design. Previously, AGS offered either a flat or round profile, but this one is a hybrid. "The round is super comfortable and secure on your hand, but lacks some of the styling," Harris says. "The flat is gorgeous, but a lot of people are thinking about aging in place." In response, AGS designed an elliptical top rail, which offers a more "grippable" surface than the flat option and a more stylish look than the round.