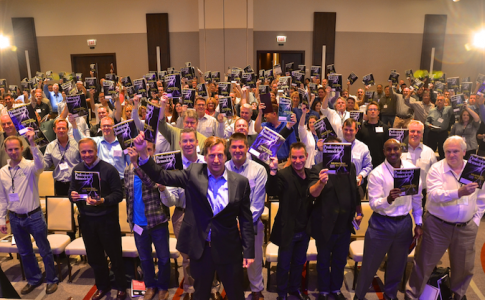 Selling, leading, and succeeding were the buzz words at the inaugural Extreme Sales Summit, held Sept. 25 and continuing on Sept. 26, in Chicago at the InterContinental Chicago O'Hare. More than 300 top home-improvement executives and sales professionals gathered to network, learn the latest in consumer buying trends, and simply elevate their game. 
The summit is hosted by SGC Horizon's Professional Remodeler, the media brand serving owners and executives of residential remodeling firms, and PRIME, the premier council of leading and high-volume remodeling professionals.
Summit sessions are led by successful entrepreneurs, sales legends, and business-growth strategists. Michael Gerber, author of best-selling E-Myth books, delivered the keynote speech, "Selling E-Mythology—Selling is a System." Gerber has been dubbed "The World's No. 1 Small Business Guru" by Inc. magazine.
"The Extreme Sales Summit fills a void in the residential remodeling and home-improvement industry," says Tony Mancini, group publisher and principal of SGC Horizon. "Along with PRIME, we decided to provide an annual venue that offers remodelers the opportunity to network, recharge, boost sales, and increase closing ratios."
The Sept. 26 schedule includes additional motivational sessions, concluding with a summary of the summit's best tips and highlights.