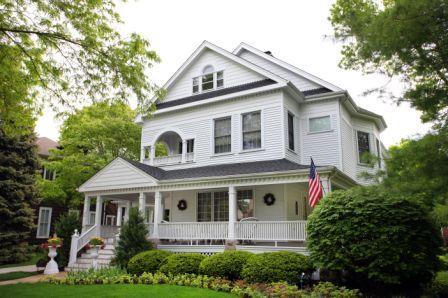 The NARI Greater Chicagoland chapter recognized the restoration work done on this home with a 2012 Remodeling Excellence Award.
Vintage Victorian homes are scattered throughout La Grange, IL, but not all of them reflect the same beauty they did in the 1800s.
However, with detailed planning and renovating, a home could truly do justice to its time period, like the recent award winning home addition and renovation that Normandy Remodeling Designer Gary Cerek took on.
"All the pieces and inspiration were there, but the home needed two things: to be brought into the 21st century in regards to amenities and a serious interior update," commented Cerek. "I didn't want to take away from the home's history, so there's a lot of interior details that you don't see in every home, like tray ceilings and custom arched cabinetry."
Creative use of materials and design allowed Cerek to integrate modern conveniences in a way that were consistent with the home's historic aesthetic.
"Everyone involved was very happy with how the project developed and turned out," says Cerek, "I think anytime someone dives into a historic home restoration it's key to always be sensitive to the home's style, or the final result will be a disjointed home."
Industry peers were impressed with Cerek's ability to respect and highlight the Victorian style, while making it a much more functional home. The National Association of the Remodeling Industry (NARI) Greater Chicagoland recognized the home with a 2012 Remodeling Excellence Award.
View more pictures of the award-winning project in the slideshow below. PR