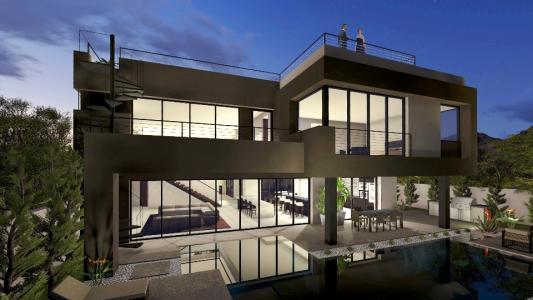 Rendering courtesy of Blue Heron Homes
Big, beige, and foamy. That's the impression that the 2015 New American Home, revealed at the International Builders' Show, left on green architecture columnist Lloyd Alter.
Built by Blue Heron Homes, this year's home is 5,800 square feet, and the Wall Street Journal reports it will sell for about $2.5 million. With all the newest gadgets and gizmos, the home has a HERS rating of -13, is certified Emerald City by the National Green Building Standard, and is going for LEED Platinum.
In a statement posted online, Blue Heron Principal Tyler Jones said: "The overall, core goal of the home was to show the architecture, interior design, and construction industries that all of the most amazing, latest technology, all the latest design trends, the most cutting-edge concepts and feature can all be integrated into a home that doesn't have to be a five-million-dollar custom home."
"Good to see the imaginary owners of this $2.5 million house are keeping it humble with their $9 bottle of Yellow Tail wine," writes one reader in the article's comment section, referring to a photo of the model home's living room.
Learn more about the home on TreeHugger.