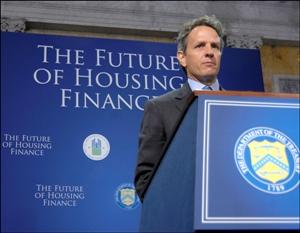 The future of mortgage giants Fannie Mae and Freddie Mac hangs in the balance as the federal government struggles to determine whether it should continue to guarantee mortgages after the market stabilizes.
Sources close to discussions said that Obama administration officials are unable to agree on the right course to take, the Wall Street Journal reported. The Treasury Department is under a January deadline to make recommendations to Congress for a revamp of the housing finance system.
Proponents of the federal government continuing to provide guarantees say that such guarantees are necessary for a healthy housing market. Treasury Secretary Timothy Geithner has spoken publicly on the benefits of limited but explicit guarantees on certain types of mortgages.
Other are concerned that mortgage guarantees put the government at high risk, especially in the light of the $134 billion loss already accumulated by Fannie and Freddie. Edward DeMarco, acting director of the federal agency that regulates Fannie and Freddie, said that there are negatives to such guarantees. Taxpayers would carry the burden if the government underpriced a guarantee, and the government would want a say in who gets loans and at what price, he said at a fall hearing.
Currently, the federal government is committed to unlimited aid to keep Fannie and Freddie afloat. Sources close to discussions said that the plan will likely aim to attract private capital to the housing market by allowing Fannie and Freddie to raise bank fees for loan purchases.