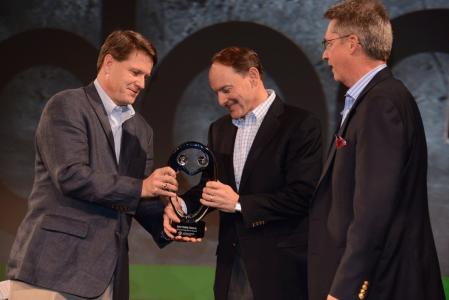 Sister companies Danze, Inc. and Gerber Plumbing Fixtures were recently honored with Affiliated Distributors' (AD) prestigious Giving Back Award. The award was presented at the group's 2013 North American Meeting as part of their Spirit of Independence Awards. The Giving Back Award recognizes an affiliate or supplier who makes the success and health of their community a priority to their company.
 
Danze and Gerber were recognized for living their core value of being a positive force in the world. That core value is demonstrated through corporate and employee initiatives, including:
 
Team Danze's annual participation in the Courage Classic bicycle ride for the Denver Children's Hospital
Involvement with the Storehouse and World Vision
Leadership efforts in hosting 5k runs and other events for the Lymphoma Research Foundation
Support of local families (especially children) in need in Montreal and Chicago during Thanksgiving and Christmas.
 
"We've heard a lot about the enduring principles at AD, one of which is something that never changes…and that's giving back," said Michael Werner, chief executive office for both Danze and Gerber.  "At our family of companies, giving back is a big part of our effort to be a positive force in the world.  We truly appreciate this honor."