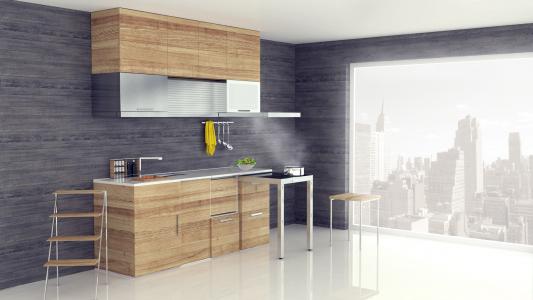 One of the five finalist entries for FirstBuild Micro-Kitchen Challenge. Click here to view a slideshow of the winning microkitchens.
Five kitchen designs submitted by individuals from four countries were selected by a panel of judges in the FirstBuild Micro-Kitchen Challenge to create a fully functioning kitchen design in a small footprint. FirstBuild will incorporate elements of each of the designs in micro-kitchen prototypes which it will manufacture and sell.
Click here to view a slideshow of the winning microkitchens.
The need for micro kitchen designs is being driven by continued urbanization growth. By 2030, the world's urban population is expected to hit 5 billion, according to the United Nations, significantly driving down the average size of living spaces. The Micro-Kitchen Challenge was developed to solve the design and engineering hurdles in creating a kitchen that will maintain style and functionality in a significantly smaller footprint than traditional kitchens.  
 
"This challenge illustrates the core mission of FirstBuild," said Natarajan "Venkat" Venkatakrishnan, director of FirstBuild and R&D for GE Appliances. "By bringing together a community, we combine customer discovery with international talent to get innovative products from mind to market very quickly."
FirstBuild.com is an online community of engineers, designers, scientists and home enthusiasts dedicated to conceiving, co-creating and building the next generation of major home appliances. Participants identify market needs, directly participate in the product development and watch via social media as ideas speed from mind to market at the FirstBuild Microfactory in Louisville, Ky.
While several challenges and projects are underway, the Micro-Kitchen Challenge is the first for FirstBuild.  The challenge was launched as part of the New York City Economic Development Corporation's NYC BigApps 2014, an annual contest to engage members of the tech and civic ecosystems to create apps and products using public and private data to address pressing challenges.
The micro-kitchen design winners, chosen from a pool of 87 entries, narrowed down to five finalists, are:
Alexandra Jemnicka (Slovak Republic)
Issac Benjamin Robledo Cazares (Guadalajara, Mexico)
Lautaro Vogel (Buenos Aires, Argentina)
Jolee Nebert (Seattle, WA, USA)
Tim Boyle (Mesa, AZ, USA)
The judging panel included members of the industrial design and manufacturing communities:
    
Scott Lundberg, acting chair of industrial design at Pratt Institute
Graham Hill, entrepreneur, TED talker, micro-living enthusiast
Natarajan "Venkat" Venkatakrishnan, director of R&D for GE Appliances, Director of FirstBuild
Steve Diskin, chair of industrial design at Pratt Institute
Lou Lenzi, director of industrial design at GE
Now that the winning designs have been selected, the community will work on the engineering specifications. FirstBuild's next step will be creating a functional prototype of the micro kitchen with the goal of building a small batch of products for sale in test markets.
 
Each design winner will receive $2,500. Additional prizes and sales royalties will be awarded to community members who make significant contributions. For more information about other challenges and projects, visit www.FirstBuild.com. PR