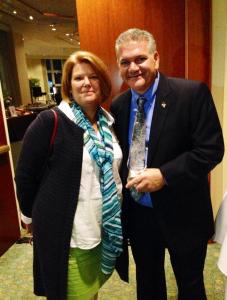 Cheryl Wilcox and-r Chris Zizza of C&R Flooring.
C&R Flooring, a New England-based wood specialist, was named the recipient of a 2013 Silver PRISM Award in the "Community Spirit" category, by the Builders and Remodelers Association of Greater Boston (BRAGB).
 
The PRISM (Prestigious Results in Sales and Marketing) Awards recognize the accomplishments of professionals who influence the present and shape the future of building and design. The biennial competition – the largest industry competition in this region - is open to builders, developers, project owners, architects, land planners, marketing/advertising firms, interior design firms, remodelers, and other professionals in the home building industry.  The 2013 Awards Gala - held October 30th at the Seaport Hotel, Boston – celebrated the winners while also raising funds for Housing Families, Inc.
 
The Silver award received by President, Chris Zizza, recognized C&R Flooring for their extraordinary philanthropic outreach and community impact. Through C&R Flooring, Zizza provided materials, labor, and expertise to many charitable projects, including the Room to Dream Foundation and has helped various church organizations and community-based renovations, including Emanuel House in Boston, an inner-city youth center that was renamed the Peter Giambanco Gymnasium in honor of Zizza's grandfather. C&R also donated all the labor for a house renovation in Medfield, MA featured on Extreme Makeover: Home Edition, installing 3,700 square feet of flooring in seven hours.