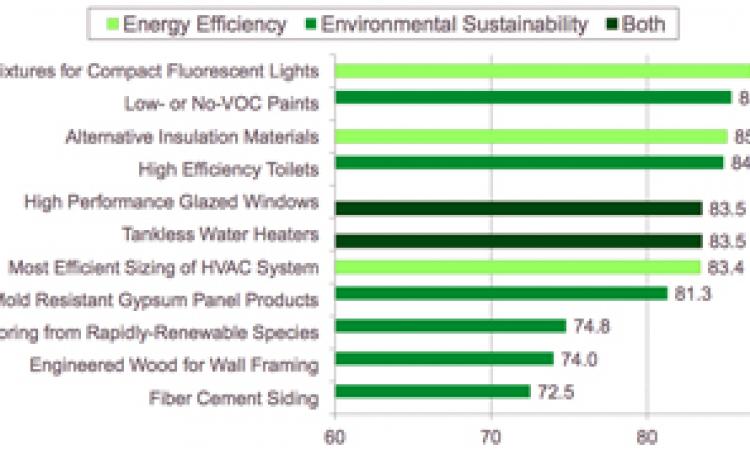 Building Science: Clients who hire pros more likely to go green
Building science, energy efficiency, and sustainability are all terms used to define a wide range of green home upgrades available to consumers. The popularity of the products and services related to green home upgrades continues to increase in 2013 as well as for the foreseeable future. Simply, as the trend toward green home upgrades continues, so too does the opportunity for remodelers to expand their client base.
According to analysis of the latest American Housing Survey by the Joint Center for Housing Studies of Harvard University, upper-income homeowners and those using professional remodelers are more likely to install energy-efficient products and services in their existing homes.
"This is a very significant database," says Kermit Baker, director of the Remodeling Futures Program at Harvard's Joint Center for Housing Studies. "They go out to well over 100,000 households. So all of the information they present here has a high degree of accuracy associated with it."
The share of owners undertaking a project for energy-efficiency purposes by income:
Under $40K: 20.8 percent
$40-$80K: 24.5 percent
$80-$120K: 24.8 percent
Over $120K: 26.0 percent
The average number of projects between 2010-2011:
Under $40K: 3.5
$40-$80K: 3.9
$80-$120K: 4.0
Over $120K: 4.1
As for the installation method incorporated in these energy-efficiency projects, 30 percent used a combination of a professional remodeler and DIY; 22 percent of homeowners strictly used a professional remodeler; and 17 percent were strictly DIY. The upper-income energy-efficient projects installed by professional remodelers were much more likely to receive a tax credit as well.
Percentage of owners that received a tax credit in 2011 includes:
Under $40K: 29.6 percent
$40-$80K: 44.4 percent
$80-$120K: 50.4 percent
Over $120K: 53.9 percent
Nearly 50 percent of these projects that resulted in a tax refund exclusively used professional remodelers as the preferred installation method.
Another research project, the JCHS National Green Remodeling Survey conducted in 2012, found that while energy efficiency was the leading green- or sustainability-related goal for consumers, other environmental sustainability objectives were also important. The survey reported that 32 percent of homeowners cited "energy efficiency" as the main reason for the home improvement project. Twenty-four percent indicated "environmental sustainability other than energy efficiency" as the reason for the project.
Results indicated that fixtures for compact fluorescent lights and alterative insulation materials were the most popular type of energy-efficient projects. Low- or no-VOC paints and high-efficiency toilets ranked highest for non-energy-related environmental sustainability projects. Finally, high-performance glazed windows and tankless water heaters ranked highest for projects that combined energy-efficiency and non-energy-related sustainability goals. PR