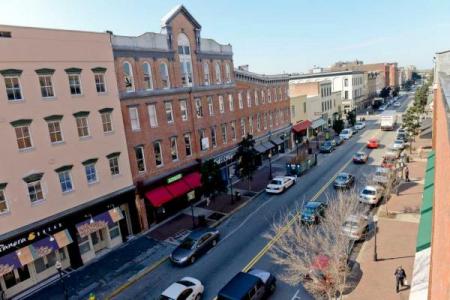 As part of the jurisdiction review, Ben Carter Enterprises currently has buildings under review for internal renovations, facade renovation and façade replacement.
Ben Carter Enterprises recently acquired 27 properties on Broughton Street in Savannah's Historic District and has begun work on renovating and restoring all but one of them. The firm is planning varying levels of renovations and repairs including exterior repairs, facade restorations, new exterior storefronts, entry modifications, an awning replacement and roof deck improvements. Only one building will be demolished.
The team Carter has assembled is pursuing its overall vision of returning Broughton Street to a vibrant community with art, music, cultural events and enlightening experiences. Broughton Street's retail offerings will be divided into different districts: Fashion, Casual Fashion, Contemporary and Lifestyle. The retailers and restaurateurs will be clustered in areas of the street based on style, ranging from upscale to bohemian.
"Our goal is to attract the best retailers and chef-driven restaurants to downtown Savannah," said Ben Carter, founder of Ben Carter Enterprises. "The area has deep history and inherent charm already, and we look forward to bringing the street back to its former glory and vitality. We will give both residents and tourists a new reason to come downtown, by making Broughton Street a place with beautiful streetscapes where you can visit, stroll, shop, dine and just be."
Karen Guinn, a key member of the Carter team, said, "We are not building a project that will have one grand opening, but rather renovating a district, so the progress and the milestones will be rolling, with a steady stream of openings between now and March 2015."
Carter's investment to the restoration of Broughton Street is unprecedented. "What Ben Carter is doing in Savannah is a huge undertaking and shows he has made a commitment that previous Broughton Street landlords have been unwilling or unable to do," Guinn said. "Ben could have acquired the properties and filled them with tenants without upgrading the properties. But that's not the way he works. He cares about improving the communities where he does business. Also, he recently moved into an apartment right on Broughton."
Plans at the Broughton Street district continue to crystalize. Along the street, several dumpsters are located outside buildings that are being cleaned out, renovated and restored. As part of Carter's $75 million project, a substantial portion is dedicated to ensure buildings are returned to a structurally sound state and made up-to-date with life-and-fire-safety regulations. The team is cleaning out several buildings that have not been occupied in 50 years and has found artifacts that exhibit the important role the properties play in Savannah's history.
"In 25 E. Broughton St., we found a 1940s Certificate of Appreciation to the President of the Lion's Club," Guinn said.
As part of the jurisdiction review, Carter currently has buildings under review for internal renovations, facade renovation and façade replacement. Carter also has filed an appeal of the denial of his application to demolish the building at 240 W. Broughton so he can develop a four-story retail and residential building reminiscent of the old Chatham Furniture Building that stood on the site before a fire destroyed it. This building is the only one Carter would like to demolish. All others will be restored.
Carter's team has a signed letter of intent and is in lease negotiation with an international retailer that provides high-fashion apparel at affordable prices. The retailer requires 30,000 square feet and will occupy the basement and additional three floors. The demo request is being made to provide the retailer with a consistent, architecturally attractive store.