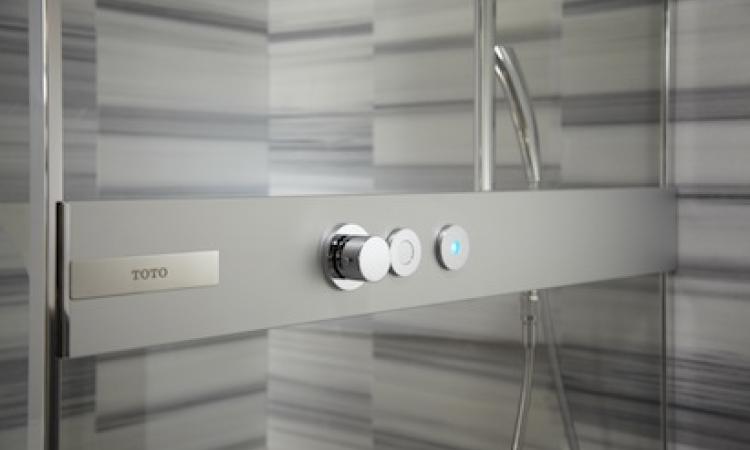 The annual Kitchen & Bath Industry Show is one of the best places to see the latest in shower and bath technology and this year was no exception.
Manufacturers continue to focus on water efficiency as they battle for eco-friendly recognition, but still deliver an enjoyable shower. At the same time, there is an increased emphasis on integrating more technology into the bathing experience.
Some of the innovative products on display at this year's show:
Danze air injection showerheads
Danze has introduced a new showerhead configuration that injects air directly into the showerhead "engine" to reduce the amount of water used, but maintain the shower experience in the WaterSense-approved showerheads. The company's Neoperl High Performance flow controllers inject air through two small holes in the ball joint.
The new air injection system increases water velocity and shower spray intensity, softens the feel of the shower spray by trapping air bubbles in the water stream and helps to maintains water temperature.
Delta H20kinetic
Delta has expanded its H20kinetic technology to raincan showerheads, handshowers, body jets and sprays. Each H20kinetic showerhead and handshower contains an internal system that sculpts the water into a unique wave pattern, designed to create a feeling of more water, all without using more water. H20kinetic is now available in 13 out of 14 Delta bath suites. The 1.5 and 2.0 gpm showerheads are WaterSense-labeled and provide up to 40 percent water savings over standard showerheads.
H20kinetic technology has also been integrated into several products from Brizo.
Kohler VibrAcoustic Underscore bath line
Focused on complete body relaxation, the new Underscore VibrAcoustic baths are engineered to ease tension and stress. (Vibroacoustic is a technology-based sound therapy defined as hearing and feeling sound vibrations through the body.)
Bathers can stream music and podcasts through the bath from a mobile device via hardwire connection or wirelessly with a Bluetooth receiver. The VibrAcoustic technology is controlled by a full-color touch screen user interface.
The system comes pre-loaded with four "experiences" — original compositions that integrate music, vibration and lighting in order to encourage the bather's breathing rate to align with the beats or chord structures.
Moen Twist handheld shower
Twist allows users to switch between the handheld shower's four spray patterns with one hand: simply swivel the showerhead around the handle with a push of a Soft Grip thumb pad. The Twist stops spraying between settings to ensure homeowners don't spray themselves, the walls or the ceiling while switching between the four settings: Immerse, a full coverage spray; Soothe, a heavy mist spray; Drench, a soft, yet heavy, rinse perfect for bathing kids and pets; and Shine, a strong, focused spray ideal for cleaning the bathtub and shower. It also features a 30-inch vertical slide bar with shower arm diverter to allow easy height adjustments to accommodate any member of the household.
Toto NeoRest Shower Booth
The new shower offers bathers full control of their showers' water temperature and volume from a touch-button control panel that is accessible from outside or inside the unit. An LED light — which is powered by Toto's EcoPower technology, which harnesses the kinetic energy of flowing water — indicates when the shower has reached the desired temperature. Toto's Shape Memory Alloy valves ensure that there are not drastic water temperature changes. A NeoRest Airbath is also available.