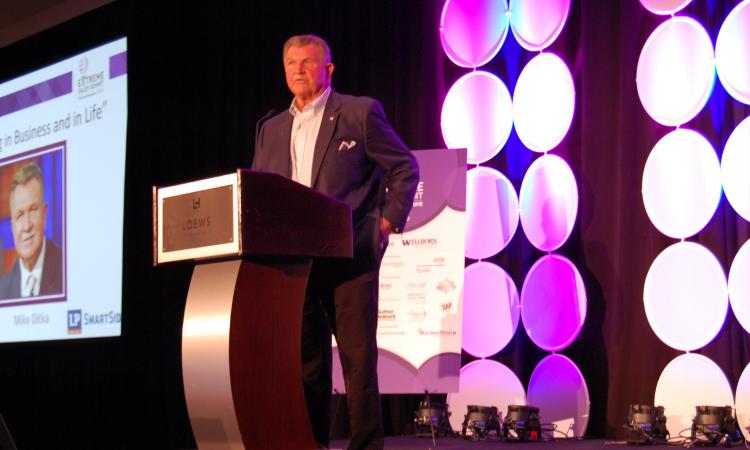 NFL legend Mike Ditka addresses attendees during his keynote presentation at Professional Remodelers' Extreme Sales Summit.
Selling, leading, and succeeding were the buzz words at the second Extreme Sales Summit, held Sept. 17 and 18 at the Loews Chicago O'Hare hotel. More than 300 home improvement executives and sales professionals gathered to network, learn the latest in consumer buying trends, and simply elevate their game.
The summit was hosted by Professional Remodeler, the media brand serving owners and executives of residential remodeling firms, and PRIME, the premier council of leading and high-volume remodeling professionals.
Summit sessions were led by successful entrepreneurs, sales legends, and business growth strategists. Mike Ditka, a Pro Football Hall of Fame player and Super Bowl-winning coach, delivered the keynote speech, "Winning in Business and Life." Ditka shared how he applied his football motivational skills to spur the success of his Chicago restaurant and his charity, The Mike Ditka Foundation, which raises funds for Misericordia and pediatric AIDS research programs. 
In addition to Ditka, the summit featured top-flight selling consultants and national home improvement sales speakers, including Mark Richardson, a fellow at the Harvard University's Joint Center for Housing Studies; Bill Bartlett, founder and president of Corporate Strategies and Solutions Inc., a Sandler training center; Gord Cooke, president of Building Knowledge Inc.; and Liza Hausman, vice president of community for Houzz.com.
Slated to be held again in 2015, the Extreme Sales Summit is the only conference devoted entirely to in-home selling.
"The Extreme Sales Summit fills a void in the residential remodeling and home improvement industry," said Tony Mancini, group director and principal of SGC Horizon. "Along with PRIME, we decided to provide a venue that offers remodelers the opportunity to network, recharge, boost sales, and increase closing ratios." PR